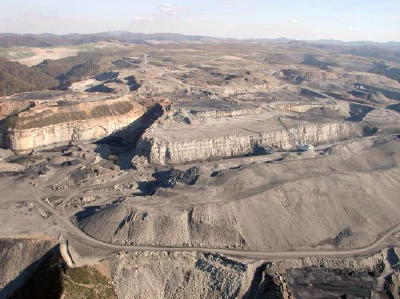 They came to Kayford Mountain this week to
consider the assault on nature and people's lives (Vivian Stockman Photo)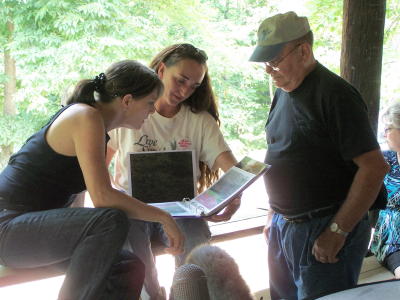 People shared their stories with country singer Kathy
Mattea (left) talks with Maria Gunnoe - "This is not a story. These are our lives" (Hur Herald Photo)
By Bob Weaver, July 14, 2007
Internationally recognized environmentalist Judy Bonds of Coal River Mountain Watch said "God must be turning his head," when he looks at mountaintop removal in Appalachia.
Bond met this week with country music artist Kathy Mattea and a large group of conservators on Kayford Mountain, site of one of the state's most expansive mountaintop removal sites.
They drove to the top of Kayford on a local access road, a challenging experience for most, long, winding and straight down from the edge.
The mountain is the home of Larry Gibson, who has long refused to sell his property to the coal company, his family has lived in the remote area for several generations.
Gibson said "This in not an act of God, this is an act of greed...No one should have to live like we are."
Bond was among many people who came to the mountain to share her story and experience with Mattea. Mattea returned to her native state to play a role in a solution over mountaintop removal.
Coal companies have decapitated nearly 500 mountains, pushing the debris into mountain streams. Over 1000 miles of streams have been buried, at least 500 in West Virginia.
Nearly three million pounds of ammonium nitrate and diesel fuel are used every day to level the mountains for quick extraction. That's 27 times the explosive force of the atomic bomb dropped on Hiroshima.
Coal companies have polarized their workers, telling them the few thousand remaining mine jobs are threatened. West Virginia once had well over 100,000 mining jobs. Now there are about 13,000.
Mattea said "I have learned this is not about jobs, because it only takes six or seven to run that machine."
Dozens of sludge dams, according to government agencies, have containment problems and could be in danger of breaking.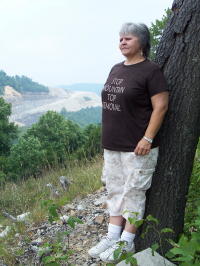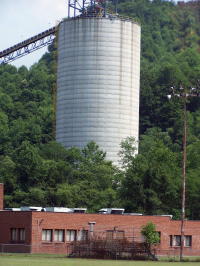 Award-winning environmentalist Judy Bond (left) surveys Kayford site, a few miles away a Massey silo looms over Marsh Fork Elementary School(right) which rests underneath three billion gallons of toxic sludge (Hur Herald Photos)
Just one dam 400 yards away from Marsh Fork Elementary School in Raleigh County holds three billion gallons of toxic sludge, or twenty times as much toxic muck as the dam that burst at Buffalo Creek, killing 125 people in 1972.
Pittson Coal said that disaster was an act of God.
Bond says money and corporate greed has prevented reaching a common ground toward a solution, with coal companies polarizing West Virginia's few remaining miners against environmental concerns.
Bond, a former restaurant waitress, received the Nobel Prize for environmentalists, the 2003 Goldman Prize for North America. Coal River Mountain Watch has figured prominently in Robert F. Kennedy, Jr.'s book "Crimes against Nature."
The well known "Duster Sisters" from Sylvester, Mary
Miller (L) and Pauline Canterbury (R) share their stories
about battling thick coal dust that settled on their town (Hur Herald Photo)
Recently, WV Governor Joe Manchin reduced the number of streams protected by the Clean Water Act, from 300 to about 150, caving to coal company lobbyists.
The fight against mountaintop removal is now extending beyond the borders of West Virginia and Appalachia.
Bond has said, in the end "It is a battle for over whether man should poison his neighbors to feed himself," and allow mountaintop removal be the chosen method of extraction.
"There surely is a better way to help miners, and help our world," she concluded.