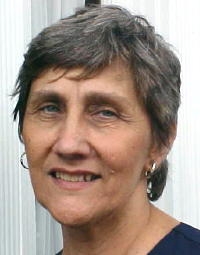 By Ann Richards

Hello to all our readers!

An explanation is in order. That is, for the absence of our column. As for my part, here are a few reasons.

First, my computer died! Then, the summer reunions and all that goes with that has been time consuming. It is not often that I can get into town to the library. When there is a reason for going to town, there are more things to do there than you can imagine. Really! Not only do I have things to get done, but it has been necessary to take Mom and Auntie to get their supplies and to get them out of the house and give them a break from utter boredom.

The most important and exciting event is the birth of my granddaughter, Emma Janae Richards, daughter of my son Larry J. Richards and Minda Kern Richards, born May 15th, 2007. This is (again) the most beautiful baby ever! Of course, that is what I say about every one of them. But, she is beautiful. In the words of my sister-in-law, " A Richards can't make an ugly baby!" So, we will always be confident that in this family, there will always be beautiful and handsome babies.

My grandson, Darren Richards is visiting me at Nobe and his cousins , Oshea and Olivia Richards and Isaiah Thompkins in Vienna, WV.

Photos are in order here, but again my lack of technology is to blame!

Mom and I attended the Eugeneous and Elizabeth Weaver reunion at Calhoun County Park this past Saturday, June 23rd. and enjoyed the time with our family members that we see not often. One of these family members has been compiling the Weaver family genealogy for years and has a huge notebook of information.

Some of our neighbors have been ill. One of them is Charles (Chink) Roberts. At this moment, I can't think who else to mention. May the comfort of the Holy Spirit be with Chink and may he recover his good health.

Also, I wish to express to Eursel Roberts my sadness at his loss of his son, Chad. Remember, Sam, we are not without hope because of the resurrection of our Lord.

I understand that Bible school was a one-day event on Saturday, but we attended the Weaver reunion and could not be with the folks at church.

The Wood Festival was wonderful! The music was superb! The streets of Grantsville came alive as the singers and the musicians made the valley ring with great and talented voices and stringed instruments, drums, horns and a few dancers!

It was nice to meet an old friend, Melvin Morrison at the Koffee Kup in Grantsville. He was there with our neighbor and Mayor of Five Forks, Willard Jones. When Willard left, Melvin came over and talked with Mom, Auntie and me. We ate our lunch and he drank coffee. It was a good visit.

At this time, I am writing from a borrowed computer and someone is demanding my attention. My grandson, Oshea, wants me to make him some breakfast.

So, until the next time, thanks to all of those who wrote to us asking for more of Where The Heart Is. Please keep letting us know you are out there. Feedback is important.

Our hearts are with you, our friends and neighbors.