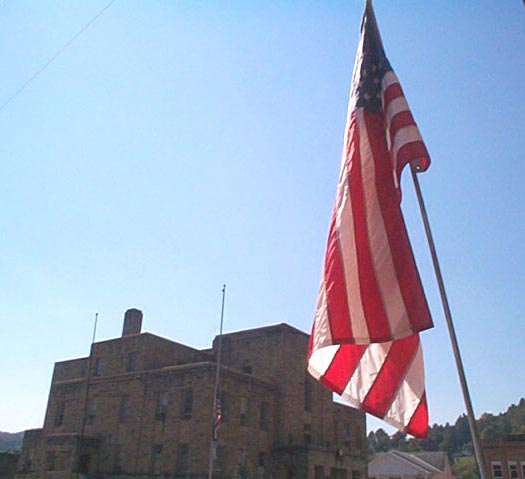 Calhoun County Courthouse Flag at dusk
We are encouraging our readers to express their thoughts, feelings and opinions about our national tragedy. If you have not done so, please e-mail us at bob@hurherald.com or FAX at 304-354-6183 or snail mail at HC65-Box 120, Mt. Zion WV 26151.

I firmly believe our country should Kick Butt and take names later. I pray our country will stand tall as we have always done. American by Birth and Choice...Ernestine Keaton

I would like to know how a Congress can pass a bill that prevents prayer in schools, but yet turn around and in the face of trials and suffering, sing God Bless America on public tv? I realize that in the group that did sing, a few of them were probably Christians, but that fact still remains, they outlawed prayer in public schools, but can sing publicly about God.
Maybe we need to contact our Senators and Representatives and tell them we want public prayer back in school. God hears us and knows what we are doing down here on earth. Maybe He is trying to get our attention and teach us not to call on Him just in times of trouble, but to call on Him through all the good times as well...Anita Bailey

Tuesday was a sad day for all of America and other nations as well. It is unbelievable that anyone could be capable of such cowardly acts. Whoever is behind this, thought that they could destroy our nation with this act. But, we have proved them wrong. We have showed the world how strong we really are. We have pulled together during this tragedy, not further apart.
The majority of America agrees on what needs to come next. And it will!!! These people have made all of us Americans victims of this act, and we are definitely angry, and we do want action. It will come in time, and with careful planning. Everyone needs our prayers. We would like to say thank you for the people who have jumped in to help rescue anyone who could have survived and to recover the dead. We need prayer for our Military Men and Women, who is not sure exactly what lies ahead for them. Our prayers and thoughts will be with all at this great time of need...Laura McKown Baudouin

Just like everyone else in America, I too have been glued to the television and radio trying to make sense of what happened in New York and Washington, D.C. Some people believe that security measures should have been able to detect this coming, but when a plane is hi-jacked, there is no way to know what is going to happen.
Our security is designed to detect things like bombs and enemy aircraft entering the air space over America. As for why someone would do this, we cannot understand what goes on in the minds of a terrorist or the leader of a group of people who would kill innocent people, who are fathers, mothers, sons, daughters, grandparents, husbands and wives.
I believe the person or persons responsible for this horrific attack on America should pay for what he did, but I do not think that America should retaliate. I believe America should find the person or persons and bring them to justice. That is a fair way to deal with who did this. If we start bombing a certain country or section of the world I believe that this is just what the terrorists want. I think that if we do this, then the terrorists will start bombing us and on and on.
I do not think that murder is right but I also do not think that murder in the face of retaliation is right, either. I think that America needs to get on its knees and pray that our leaders make the right choices on how to deal with what has happened. I also think that we need to pray for all the victims and their families that were affected by this tragedy. We should not hold any one race or religious group responsible because of the actions of a few radicals who chose to commit murder on innocent victims.
I know someone who has relatives who worked in the Trade Center and also has friends who worked there as well. All I can do right now is to pray to God that He will be with this family right now. This is an act that will not be forgiven nor forgotten, but America will recover and will go on with life but life as we know it in America has changed forever. Thank you Mr. Weaver for letting me voice my opinion and thoughts on your web site. I realize that this letter is long, but I needed to have someone to say these things to. GOD BLESS AMERICA...Robin Hardbarger

I was too young to recall the assassination of President Kennedy but, I can sympathize with all who have stated that they remember exactly where they were and what they were doing at that monumental time in history. I, will never forget September 11, 2001. It began as a regular work morning for me as others. I was standing by the copy machine when a co-worker came out of their office and said the World Trader Center had been hit by a plane. I ran to my office to turn on my radio only to hear that the second tower had been struck.
Announcements were made that they were evacuating the Pentagon but in my heart I thought, surely there is no danger of this happening a third time. As my co-workers and I listened anxiously, the Pentagon was struck. I must admit I was filled with fear and disbelief. I felt that any minute the White House would be hit or the Capitol. I cannot believe that something of this magnitude has happened on American soil. But I trust in our government and know that the ones responsible for this will be brought to justice and dealt with swiftly and harshly. Death should be their reward...Eva Chapman

I am still in shock. As I pray and gather my thoughts, the pain and sorrow for the lost souls overpowers me. My earnest prayers and heart go out to all of the victim's family's and to all the Heroes of the tragedy. First we must pray for guidance and direction, we cannot afford to react hastily to this horrible action. All middle easterners are not to blame, let's use the lessons of history to guide us in the present, remember what happened when we incarcerated our Asian population during World War II.
I am a Navy Veteran, who was stationed on the USS West Virginia a nuclear missile capable Trident submarine, and served in the deserts of Saudi Arabia during the Gulf War. The realities of war are very real to me. As I think of how we can close this glaring hole in our national defense it seems impossible, however here's my two cents: Our submarines are used as a deterrent that means that the fire power and destruction they are capable of is so immense that countries are scared to attack us in an act of all out war. I feel, the deterrent that applies to this case would not be a nuclear strike.
I feel that we need to identify all the terrorist training sites and strategically annihilate them. We need to find this jackal Osama Ben Laden and extricate him just like we did Noriega and bring him to justice swiftly without book or movie rights. We do not want to start World War III, but we do want to hold the cowards accountable. Thank you for allowing me to share my disjointed thoughts. GOD BLESS AMERICA... PS -- Do these terrorists realize that they have very likely killed other Muslims in these attacks! (It's against the koran)... Tony Richards

Dear Dad,
I find it hard to continue with daily activities. People in Louisiana are showing their support by wearing Red, White and Blue clothing. I have seen more American flags this week, than I have seen in the past 10 years combined. At work I hear patriotic songs. I just walked by a man's office. His face was in his hands.
From his CD player came the song "Proud to be an American". I talk to a lot to people throughout the day and 100% of the people are demanding that we take action. I am sure we will take action. I doubt you have this problem in Calhoun, here people are assaulting people for their Arab descent.
There have been attacks on people who are third generation Americans. This is not too cool. Look back in history at Pearl Harbor before anyone does something like condemn a whole race of people. One of the highest decorated troops in W.W.II was a Japanese American from California, even though we held their relatives in a camp. I agree that we need to find those responsible and destroy them and all those that assist them. I am not known to be "Politically Correct." I want them DEAD!
Just thought I would write and tell you the people of Louisiana are united. Now the anger is setting in. If there is one good thing that has come from this tragedy, I have made friends. People I have seen for years and never spoken to have come by my office to talk. They know my name and I now know them. A week ago I didn't....Love Ya, Eric Weaver

I appreciate the opportunity to share some thoughts on the horrific events of September 11, 2001. As is the case with every other American, my first thoughts are about the victims and their families. Having spent a part of every week in airplanes during 1997 and 1998, I can only imagine the horror of the passengers on those hijacked airliners. The people in the World Trade Center and the Pentagon were just ordinary folks with lives and families just like us.
To snuff out the lives of all those innocent people to make a political point is unconscionable, and in my opinion an act of war. The nature of the American people is to be a peace-loving nation, and to avoid the carnage of war at almost all costs. This is one of those times that America should unleash its might on the perpetrators of these heinous acts. I have heard phrases such as, " We must seek out those responsible, and bring them to justice." To me, this infers apprehensions and trials of individuals, which should certainly occur, but I share the view of a commentator I heard the evening of the 11th when he said, "To bring people to justice for these acts, is in the minds and hearts of the American people, to send them to Hell." Again, thanks for the opportunity to vent my feelings...Roger Propst

I have watched since the beginning . I couldn't put into words what I was thinking. Your reprinted article was great. It said a lot of what I felt. When they are sure who and what group participated in this, they should be gone. That's a tough statement coming from me. Anyone who knows me, knows I am not happy at the thought of war. I also hope the site for the prayer vigil is full and spilling over. This is the whole county. I also would like to see flags flying that day. If you have a flag, put it out. If you don't have one, get a little one, big one, whatever...Mary Mullenax

In light of what happened, September 11, 2001, I wonder how many of those foreign countries will be rushing to our aid? Or will they be celebrating and laughing also, but yet we will continue to do the Christian thing and provide them with the aid and relief they need when disaster strikes their countries. May God bless and keep us on the christian track as we search for any survivors and pray for the families losses. God bless America...Glenn McEndree

All decent human beings cannot help but be touched by the terrorist hijackings and subsequent tragedies in New York City and Washington, D.C. I can't speak for anyone but myself. I'm hurting, I'm sad and am very angry. Osama bin Laden is hiding in Afghanistan, protected by the Taliban, a fanatical wing of Islam. They have committed atrocities on their own people. "Birds of a feather" would seem to be together. We must go after the perpetrators. God bless us all!...Anne Smith

They do not have any guts to face us face to face. When we find out who they are we should wipe them off the face of the earth. they are the biggest cowards on this whole plant earth...Michael Euegene Myers

About the events on the 11th., it's just so hard to understand, you watch it on tv and you are not really impressed, you have seen it hundreds of times in the movies. But this is not a movie, these are real airplanes and there are real people dying, and Bruce Willis is not coming to save the day.
I can assure you that people all over the world is mourning this tragic event. Friday we will, at the place where I work, have the flags at half mast and partake in three minutes of silence at noon to honor the people that were killed in the event. And I know that people all over Europe are urged to do likewise...Chris Fougman CCHS class of '92 Norrkoping, SWEDEN

It is hard to put into words what one feels. What the people are going through that lost loved ones or friends, is beyond me. They will not know what way to go or which way to turn. They will not stop searching and looking as long as they might think there is hope. It looks now as if all the hope is gone. The only answer is prayer...Katheryn L. Kerby