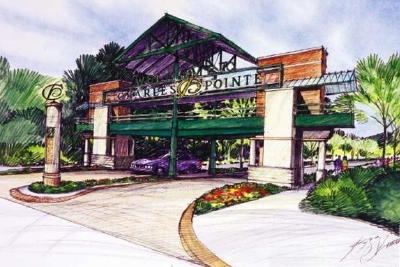 By Bob Weaver
The state's School Building Authority is expected to provide funding for a $7.5 million school to be built in the $1.4 billion "master-planned" CharlesPointe development, just off I-79 on WV Route 131 in Harrison County.
The SBA's funding for the CharlesPointe school appears to be about $5 million with $2.5 million coming from local taxpayers.
CharlesPointe initially said they were going to donate 40 acres they had set aside for the school, including providing the water, electric and sewage infrastructure.
Since then it appears the Harrison Commission will actually purchase the 40-acre plot for $32,000 an acre, described as a pass-through, using Tax Increment Financing, which gives long-term tax breaks to the developer.
Tax Increment Financing (TIF) and master planning is new to West Virginia.
The project has been all around the loop, from creating the CharlesPointe school through consolidation to downsizing the project from 1000 students to 330 students.
The original 1000 student plan did not likely meet the SBA guidelines, that schools should be built based on actual need, not projected need resulting from a thousand houses proposed to be built at CharlesPointe.
CharlesPointe, described as an up-scale community by local residents, may be partially gated in residential sections, and includes a large number of private business developments.
The developers have minimized the gating, but a drawing displayed on their web site indicates a gated or high-security entrance. A CharlesPointe spokesperson said some sections would be "secure."
The CharlesPointe school and a myriad of other building improvements in a $42 million levy, still hinges on Harrison County voters.
The proposal for the CharlesPointe school sprung from earlier suggestions to close and consolidate several Harrison County community schools, but much of the original plan has been amended by the Harrison school board.
CharlesPointe says it is positioned to become the new economic engine for north central West Virginia, and an economic boom for the entire state.
Opponents of TIF say the loss of general tax money to the community eventually means other areas of Harrison County could become neglected, while up-scale CharlesPointe thrives with their investors.
Since the Harrison consolidation plan has been amended, Challenge fellow Paul Hamrick said the public participation in the hearings was commendable.
"They listened and participated in the public hearings and the school board listened to those who came to speak. But, for months now, CharlesPointe land has been presented as the 'best available site' as free or donated land," said Hamrick.
Hamrick suggested "If TIF funds are now paying for school land acquisition in a master planned community, then lets create more TIF districts and use TIF funds in some of our blighted longstanding communities."
The CharlesPointe school was originally planned to be filled with students that would come from Bridgeport community schools that would be closed through a consolidation effort.
Public support for their small community schools now has Johnson and Simpson Elementary Schools remaining in Bridgeport, with more than $5 million combined dollars in additions, improvements and renovations proposed for those facilities.
During public hearings regarding how to spend the $42 million bond, parents from several community schools complained about the neglect of their local facilities, everything from inoperable rest rooms, poor cafeteria facilities and structural problems.
Sports supporters have apparently convinced the school board to spend about $3 million "left-over money" on sports improvements, including Astro Turf for football fields, averaging about $750,000 a field, although studies indicate Astro Turf contributes to sports injuries.
Harrison commission president Frank Angotti expressed concern about the CharlesPointe school, but then joined the other commissioners in approving it.
Clarksburg vice-mayor Margaret Bailey asked about the bond "What does this do for my community and what does this do to my taxes?
Councilwoman Jo Anne McNemar said that school districts across America are moving away from consolidation and keeping community schools, including "walking schools," indicating in West Virginia the SBA favors consolidated schools and long bus rides.