By Bob Weaver

High school football teams win and loose, dry spells come with that long wait for the day when things begin to look up. Last night was a "looking up" kind of night for the Calhoun Red Devils as they thumped Ritchie County 44-0. Some said for the first time, certainly it has been a long time.

Coach Buck Stewart said last nights win was essential to Calhoun having a winning season. "These guys are good. They just have to get it in their head," he said. They may have gotten the message last night. "They may have become believers," he said.

Quarterback Mike Fitzwater scored three of the touchdowns, Alex Yoak scored two and Zack Houchin had one.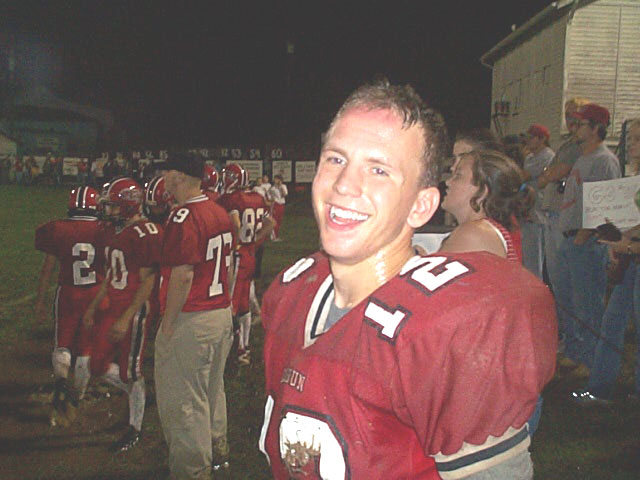 Quarterback Mike Fitzwater makes three TD's
Living through some of the glory days of Calhoun High football, it was refreshing to feel the excitement of Coach Buck Stewart and his players, but most of all the crowd at Wayne Underwood Field. Could Calhoun's dry spell be over, with two wins in a row? Last week the Red Devils defeated Gilmer County.
The band, the cheerleaders, the students, the parents and the supporters - went wild and crazy, even during a first quarter downpour which left the field soggy and the teams soaked.
Stewart's resurrection, after suffering serious heart problems says "old coaches never die, they come up with new plays." During last nights game, for some a disappointing return to the old Wayne Underwood Field, it seemed somewhat prophetic, certainly reminiscent of Calhoun's better days.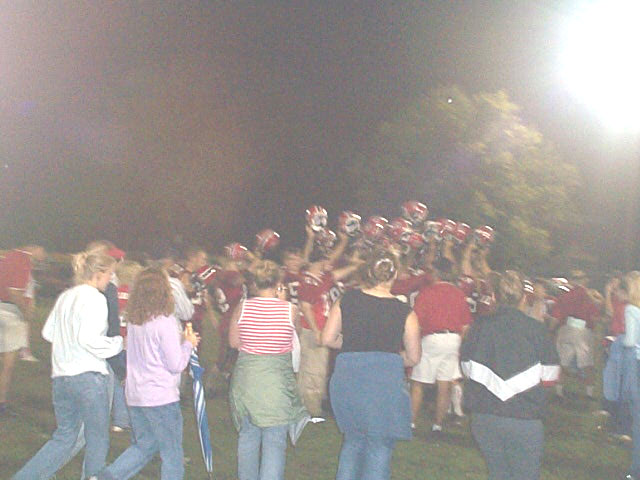 An excited bunch celebrates the victory
I could imagine the stoic, silent ghost of old Wayne Underwood himself on the sidelines, cheering the boys on. Stewart has some characteristics of Calhoun's most winning coach, more particularly the respect he gives his players.
The Red Devils took an early lead in the first quarter as Fitzwater scored from the one yard line. He then made a second touchdown on a two-yard after which the Devils poured it on, and he scored one more time. Alex Yoak and Zack Houchin crossed the line to put the finishing touches on the win.
The Red Devils had 201 yards rushing on 59 attempts. Fitzwater had 74 yards on 18 carries. Yoak had 63 yards on 12 tries with Gary Wager having 35 on seven attempts.
The Red Devils play away next Friday to Doddridge, who was defeated last night by Wirt County.