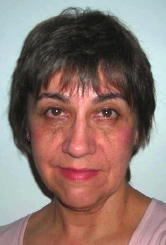 By Alice Hickman

It was the eve of St. Patrick's Day. I headed for D.C. by way of Maryland, expecting to be well near Washington before the forecasted snow hit Preston County and my planned route. An unexpected change in weather brought me snow and blizzard like conditions early on as I entered Maryland. The drive on I68 and I70 became more like a crawl at times for the next three and a half hours, with heavy traffic and several wrecks.

I motored on and early afternoon found me entering D.C. in heavy rain and poor visibility on the six lane highway. Having driven for several hours on constant alert, I was stressed to the max.

Then it happened. The exit to George Washington Memorial Highway appeared. Driving became calmer with only a few vehicles on the road. Life was good once again.

The get away week-end with reservations at the Sheridan in the heart of D.C. was a gift package for my friend from her son. I was invited to join her. We were meeting in Alexandria, Virginia, just across the river from Washington. It was her birthday and as many previous years it was to be celebrated at Pat Troy's 'Ireland's Own' Restaurant and Pub in Alexandria. She had lived in D.C. for many years and had been employed at Ireland's Own, becoming close friends with the Troy family.

I arrived early in the afternoon. She had been delayed in traffic. Upon entering the restaurant I instantly felt my Irish blood (real or imagined) start warming up in the casual friendly atmosphere. I quickly phoned my friend to confirm my location and settled in a corner table to scan the menu. After chatting with my waiter, I was assured that I was welcome to relax, enjoy my food and wait as long as needed.

My perfectly created Reuben sandwich and mug of hot coffee hit the spot. I gradually wound down and began surveying my surroundings. The establishment was arrayed with emblematic recognition to Military, Law Enforcement, Fire Department and Rescue Squad personnel. Many uniforms were displayed on the lofty areas. Walls were filled with badges, patches and other decorative symbols of honor.

Later in the day I viewed pictures and a commemorative exhibit of an afternoon on March 17, 1988 when Ronald Reagan had visited 'Ireland's Own'.

The old structure enveloped me with warm wood, softened sounds and wonderful smells of foods drifting from the kitchen.

Customers were deeply conversing, laughing and enjoying their meals. My waiter stayed in close commune making sure that I was well taken care of.

My friend finally arrived. We greeted and caught up on family news. After inquiring about the entertainment for the evening, we left the restaurant.

We made a brief stop at "The Irish Walk", another business around the corner owned by the Troys. I was delighted to meet the couple whom I had heard so much about. She was a petite and gracious lady. He portrayed the perfect Irish gentleman with a dignified charismatic charm.

The following few hours found us deep in the heart of Washington, seventh floor of the Sheridan with valet parking at $28 a day. My friend was ghastly amused at the price, especially since I had left my car in an Alexandria parking garage at $2 per day.

We're back at Ireland's Own in the heart of Alexander that night, seated near and to the right of center stage.

We order dinner. My friend suggested fish and chips as being a house favorite. I was not disappointed. The food was wonderful!

Friday night's entertainer is Pat Garvey. Customers are requesting their favorite Irish songs. Garvey is talented and knows how to handle the crowd as they raise their voices in song and laughter. Sometimes he goes over the lines several times until everyone in the house knows the words and is singing the songs. I definitely must be of an Irish lineage, I surmise. Our neighboring table is a large group of eight people. They are enjoying the evening and keep insisting that "Rocky Top" is a rightful Irish song. They finally get their request and the house is really rocking. The evening is not complete until everyone's favorite, "Danny Boy" is sung and the crowd becomes more subdued. The hour becomes late. After a 'happy birthday' song to three different people including my friend, we prepare to leave.

Then another (Irish favorite) song, 'Country Roads' erupts and together everyone sings the lyrics, 'Almost Heaven West Virginia'.

"West Virginians may have some Irish blood gushing in them someplace", I tell myself. That would explain my occasional "little flare ups".

Well the evening must not end without proper farewells. Mr. Troy insists that we return on Saturday to celebrate St. Patty's Day correctly. "There is to be three different dinner settings during the afternoon and evening and he will be doing some entertaining himself", he reminded us. We receive boisterous hugs and take pictures before leaving. This gallant elderly Irish gent is in proper attire in a green and white (santa type) hat. His white burly brows compliment the look.

I would share my picture with you, but my eyes went shut at the moment. Probably the stars!

Oh shucks, who cares! Here it is.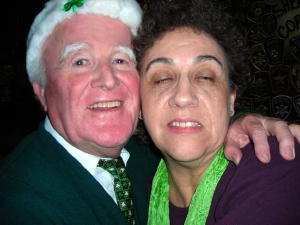 Pat Troy and Alice at Ireland's Own
We didn't return to the restaurant on Saturday. Instead, we joined the celebration on King Street. The multicultural community of varied ethnic backgrounds provides many shops and eateries. We had breakfast at a French Café as we reminisced and shared dreams. From my table by the window, I observed the street sights and people bustling around, laughing, greeting and thoroughly enjoying the celebration of the moment. The temperature was cold and at times the wind was fierce. Many people were clad in scarves, toboggans and gloves.
We browsed several gift shops and enjoyed the atmosphere of historic Old Town. Total strangers walked by and gave Happy St. Patrick's Day greetings. Late evening came upon us and we were exhausted.
So went my get-a-way. My encounter with traditions of other cultures was enlightening and refreshing.
"Thank You" my friend for a much needed and appreciated adventure. It was your birthday, but I received a most wonderful gift. I was affirmed! For a brief moment I became one of "Ireland's Own".
For today, that is where the heart is.
Pat Troy left his native Offaly, Ireland and journeyed to America. In 1974 he opened his Irish gift shop, The Irish Walk and in 1980 he opened his first restaurant, Ireland's Own. In 2000 Pat opened his current restaurant in the heart of Old Town Alexandria. Pat's restaurant has become a focal point for much of the Irish community in the greater Washington area.
Pat is Chairman and Founder of The Ballyshaners, Inc. who organize the St. Patrick's Day Parade where Pat can be found manning the grandstand in his capacity as Master of Ceremonies.
For more information on Pat Troy's Ireland's Own Restaurant & Pub visit www.pattroysirishpub.com or hear live, The Irish Radio Show with his co-host and daughter, Kathleen Molloy, every Sunday morning from 10:30 a.m. to noon, on 1120AM, WUST or online at www.wust1120.com The show features music, sports and news from Ireland.