Intercepted Letter

Mr. Jason Williams, Gov. Manchin's Office,

I had previously contacted you over a year ago regarding a "low water bridge" problem.

I followed the instructions of your office and other contacts and tried to obtain the emergency assessment from Bill Stemple, OES Director, for Calhoun County.

Mr. Stemple has refused to respond for over a year.

To date, my children and neighbors children have missed at least 30 days of School this year due to flooding problems.

I have a daughter who is about to graduate this year which has pulled her grades down considerably due to her missing school. I have a 12 year old who right now has went from an A in history to a D.

This is all because of not being able to make up some of these assignments, due to it being class participation work.

I have received a letter from the school regarding their absences. I am very upset about this.

I am aware that Governor Manchin's wife is on the committee for "No Child Left Behind", maybe there is something she could do about this getting an assessment.

My other daughter, who is graduating, was nominated for a scholarship through "Who's Who." There will be no chance of this now due to her absences.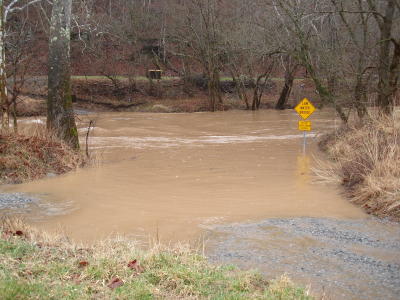 Water covers low-water bridge blocking access for families
Bill Stemple spoke to me in October, 2006, and told me he felt it was not an emergency situation. I had to track him down for months.
How can someone like Mr. Stemple assume such a position of responsibility?
We would also like to have this in writing, so we may take this to our school board for proof that we cannot obtain the required assessment.
This is our right as taxpaying citizens to have something in writing that we cannot get help.
FEMA said they were mystified an assessment could not be obtained.
Any help you give us would be greatly appreciated.
Thank you,
Barbara Heery
Rt. 7