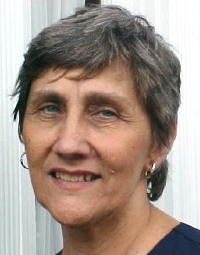 By Ann Richards
heartpaths@yahoo.com

Time sprang forward today to the dismay of some people. But nature goes on as usual ignoring the debates about whether or not daylight savings time should be changed again.

Spring seems to have arrived early as well as daylight savings time. Today, the sunlight is bringing everything to life again. It beckons us to get outside and enjoy ourselves.

Out on the deck, overlooking the ponds below, the ice is gone now. Everything has a little hint of green and the meadow over on Dick Bush's side of the valley is already a carpet of grass.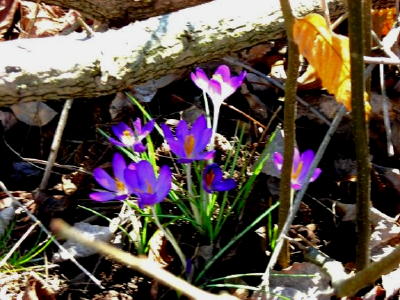 Here one of last year's leaves is still
hanging around with these spring crocuses
Evening peepers in the lowland water soaked ground were heard last night. Early this morning birds were noisily announcing the bright new day. A robin was sitting in the tree just outside the kitchen door and didn't fly away when the door was opened. Higher in the tree, a small bird of unknown name was singing its little song with great enthusiasm.
Over in the head of the hollow, a flock of turkey, probably female, were having a hen fest. One wonders what they were so excited about, other than the warm, sunny day.
Cardinals, robins, blue jays, finches, and many more, too fast to see and name, keep up a constant conversation. We miss hearing them unless we are tuned in.
Red headed woodpeckers are here too. One, nearly as big as a crow, is hollowing out the dead wood on the old apple tree here in the yard. When it shows up, all the other birds leave the scrap pile out back. Even the blue jays let it have the space there.
These are the sounds and sights of spring things. But, since it is still March, tomorrow rain or snow could interrupt this entire showcase.
And so it goes here at Nobe, where the heart is.