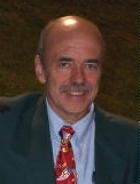 Ongoing Articles of Annoyance

By Harry Beall

Stress…even the sound of the word makes you cringe. I am sitting here writing about stress and it is stressing me out. In addition to being a major annoyance, it is also a primary cause of illness. Heart attacks and high blood pressure can be caused by stress. These are two significant killers of people in this country and stress can be at the core of both of them. People who lead stressful lives often find themselves with varying degrees of mental illness later in life. This can be anything from mild paranoia to a complete mental breakdown.

One of the worst things about stress is that it is contagious. The regional CEO of a company calls the head administrator of a local branch and it starts. "If sales don't increase immediately, there will be serious ramifications". So the administrator calls a board meeting at the local plant and tells them they are slacking off and that something has to be done. Now all the bosses are stressed out. They start yelling at the workers and hinting at layoffs if productivity does not increase.

Now the whole company is in a 'tizzy'. Yeah, well, it doesn't end there. One of the workers goes home and slaps his wife, kicks his dog and throws his kid out of the house. Not really, but you get the pictures. The worker goes home in a bad mood, there's usually an argument, and everyone in the house is a bundle of nerves. Even the family dog is a wreck! So, what is to be done about it? The only way not to have stress is to die. I for one will not accept that option. Besides, it will probably kill me one of these days anyway.

Some psychologists talk about good stress…WHAT!? What's good about stress? "On a scale of 1 to 10, please evaluate your stress". Well, let's give them the benefit of the doubt. They talk about something called "eustress". This is the kind of mild stress that supposedly motivates you and allows you to be a productive member of society. Oh, I know that one! Oh God! I have to get an "A" on this test to pass this class so I can graduate and get a job. If I can't get a job, I can't pay back my $50,000.00 loan. I could end up homeless…or worse. Yeah…eustress…I know that. What was I thinking? I go to work every day and I love my job. However, I run like a madman trying to get everything done.

There are a hundred different things on a daily basis that cause me stress and it's not good stress either. My only solace is that I love what I do. My only advice is to make sure you love what you do. If not, you will live a miserable life and probably die young! Stress will always be with you. You might as well have it your way.

Sorry I don't have better news,

Harry

P.S. A nice relaxing massage couldn't hurt!