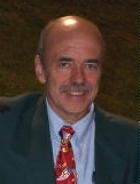 Ongoing Articles of Annoyance

By Harry Beall

There was a time when I was a major advocate for the furry forest creatures that roam our woodlands. I would say, "If you gave an animal a gun and taught it how to shoot back, then hunting would be a sport". I use to think of it as cold-blooded murder. I even became a vegetarian for 15 years because people would say to me, "Well, you eat meat, don't you?"

I even went as far as boycotting any materials made that required killing an animal to make it. I am now a retired vegetarian. This was mainly for health reasons. There are apparently certain blood types that do not fair as well on vegetarian diets. Mine happens to be one of those blood types. However, my attitude about the furry woodland creature stayed with me until about a year ago.

I was driving to work in Doddridge County and a deer leapt up over the embankment in front of me. I hit the deer before I could even find the brake. The next few seconds were an eternity. I remember the deer turning over and over above my head as I came to a screeching halt. What seemed like 3 minutes later, I came to a stop and the deer came to rest in a field approximately 50 yards from where the impact occurred. I now believe that reindeer really can fly! Eight hundred dollars and 2 weeks later, the car was fixed.

This year we bought a brand new car. It's a Nissan Versa. It's not an extravagant car by any means, but we really like it, mainly because it is so good on gas and has a great safety rating. Yesterday I was, once again, traveling to work and a deer suddenly appeared from behind a bush. This time I managed to hit the brake, but I hit the deer immediately after that. This one did not fly, but went in the ditch. After getting an estimate on damages, we were told it would cost around two thousand dollars for repairs.

I am tired of wondering how long it will be before I bag my next one. I think I have a larger quota than most hunters in the area and I don't even use a gun. Most of mine are out of season though. At any rate, here's to you hunters. Go out there and get 'em. I am over it. Bullets are a lot cheaper than cars.