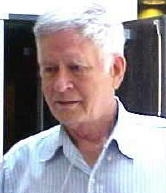 By Jack Cawthon
BBQRun@Verizon.net

There is so much happening in the news lately that I know you will appreciate my help with understanding some of it.

Regardless of what you might have heard or seen on TV, I am not the father of Anna Nicole's baby. At least, I don't think so. But if all those guys waiting in line for a test fail it, I am willing to submit myself. Stranger things have happened when the stork became lost in a snowstorm.

You may be wondering what sort of "table games" the state Legislature has been playing this session, as they play table games every year, such as table this bill, table that bill until about five minutes until the session is set to expire. Then everything is put into a basket, shaken up and pushed through with a minute to spare, or, hey, let's call a special session.

It's sort of like those surprise packages you can buy when businesses have extra junk to get rid of. Even the delegates don't know what has gone through until constituents begin to complain later. Then, the standard reply is, "Golly, I didn't know THAT was in the bill!"

Table bills this session have something to do with gambling, which, again, with anything the Legislature does is usually a gamble. But my bet is, should you wish to cover it, is that when a few months pass we will begin to see taxes on pool, ping pong, and pinball, as, after all, these are rightly table games.

Now, providing you missed it, a hanging jury in Roane County put it to a mean, old gas company. Could you hear the verdict for the cheering?

Everyone, except, perhaps, the gas company executives, seem to think that the "little people," meaning those who receive royalty payments for gas, won.

But, my friends, there was another winner in the midst. I speak, if you will pardon the profanity, of lawyers. Like, we don't get money, if you don't get money. But we never know how much they will get, or whether you will get yours. Talk about shaky royalty payments!

It's called a contingency fee, which in lawyer speak is generally a third, but sometimes more or less, depending on shipping and handling charges. Maybe the lawyers in the Roane County case, who seemingly won, will kick back (a bad word in legalese) an eighth of their winnings to all the royalty owners. Then, again, probably not.

Defending the gas company is a little tougher than defending motherhood and the flag. However, before too many more cheers, perhaps we should contemplate the verdict. As it was for a little over 400 million dollars, give or take for change, I doubt very much that any royalty owners will see two-thirds of that after the lawyers finish, even if the judge lets the award stand. Then, brothers and sisters, there will be the appeals.

At one time, back in the holler in Gilmer County, I might have been so naïve that I would never have believed a gas company would cheat anyone. But, hey, remember I attended college and learned a lot of bad things. I even, heaven forbid, have heard and tend to believe, that some preachers have been guilty of cheating of various kinds.

But let calm prevail for a moment. I grew up when the old flat rate for oil and gas was in fashion. My dad received $300 a year for a gas well, but that was back in those dark depression years. He could have chosen an eighth of production, but you see, my dad was pretty shrewd, even though he didn't have the benefit of much education.

He knew of instances where those who had chosen the production option received a big check the first month, a smaller check the second and so on down, down the line. When questioned, the gas company just declared, golly, production had just gone down and down until it just pert nigh played out. So, over the long haul, that old flat rate just kept paying the same, and the gas company didn't have to come up with any answers to awkward questions.

But, alas, here in the modern day and age, there are still many of those old flat rates in existence on wells drilled as far back as the turn of the century. Back in depression years, $200 or $300 was pretty good money, which equates through inflation to about 10 times that today. Some years ago, a law was enacted that established all new drilling on a production basis. But as long as old flat rate wells weren't modified, they could keep puffing along with the same contract rate. I get $10 a quarter for some fraction of an old well I inherited that is still on the flat rate, even if it puts out several hundred feet of gas.

Why isn't something done, or why wasn't it done properly years back to declare all those old flat rate well contracts invalid?

Forward ahead to the present. Back in the Depression, gas might have sold for 10 to 15 cents per thousand feet at the wellhead, of course, subtracting a little for processing costs, even back then. That amount would equal a dollar or a dollar-and-a-half in today's money. Gas today may be going for $7.50, and much more, if the market is tight. Take an eighth of that, even with a little skimming, and the royalty owner is doing right nicely, as he certainly knows his gas from a hole in the ground is providing a hefty check.

That gas isn't worth much to the owner if it stays in the ground. Should the owner want it all, then all he or she needs to do is sink a hole to bring it up and shell out upward of $300,000, the cost of even a shallow well. And, did I mention, run the risk of getting a dry well?

This doesn't affect the price of tea in China, but I just bring it up to imply that before we kill the golden goose, maybe we first should extract and freeze the liver for hard times up the road.

Simply, I would much rather deal with a gas company lease and hope for drilling, letting the gas company take all the risk, then run to the bank with my share of the loot should we get a geyser, less a few costs for shipping and handling, than to have the company stay away because of heavier risks. And there certainly is a point at which this happens.

Should Chesapeake be listening, I'm still waiting for the rigs to move in on some land I have in Preston County. I'm real easy when it comes to sharing!