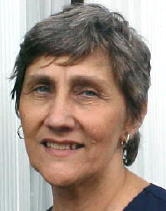 By Ann Richards

We have many potted flowers because of Mom's love of them. I have always had the pleasure of seeing what comes from her "green thumb". And when the weather starts getting cold, guess who gets the pleasure of carrying all the house plants inside? Right!

And so it was this past autumn. In came the flowers. It took most of an afternoon to get them arranged on the kitchen table. Why the kitchen table? Because of the lack of space due to Mom's many, many, many, treasures. There is hardly room to turn around in her place since Mom is a born "pack rat". Love her heart!

I complained, of course. But, the job got done anyway. Then there was no place to sit down to eat at the table. After all, who made the rule that tables are for eating? The easy chair in front of the television is much better!

Among this array of house plants there are four pots of Amaryllis. In December, one of them bloomed. It was deep red in color. Mom talked about how she had started all of the Amaryllis from one bulb and all of them were red.
In January, two more bulbs formed on one of the other plants. Every day, I was reminded that it would bloom soon and that there would be four flowers, two first and then two more. I already knew this from the last one that bloomed.
We waited. It took about a month for the bulbs to fully form and bloom. February 1st, the two bulbs started to open. Slowly, they opened to display two beautiful white flowers from a bulb that originally bore red flowers.
I did a little research and learned that the Amaryllis is native to South Africa. Of course there is a long history of how this one ended up in this kitchen of which we can only speculate.
There has been ongoing conversation about how ancient ancestor's characteristics show up in later generations. Somewhere in the distant or not so distance past the red Amaryllis bulb's grandma or grandpa must have been white. Or maybe, with all this snow, the red Amaryllis just wanted to be in style.
This beautiful flower is something I want to share with others. We have really enjoyed it. And that is where the heart is.