Players, parents and local residents congregated at Wayne Underwood Field last night to kick-off the fall sports season at Calhoun High School, including the cheer leading squad and the CHS Red Devil marching band. They even had band booster hot dogs.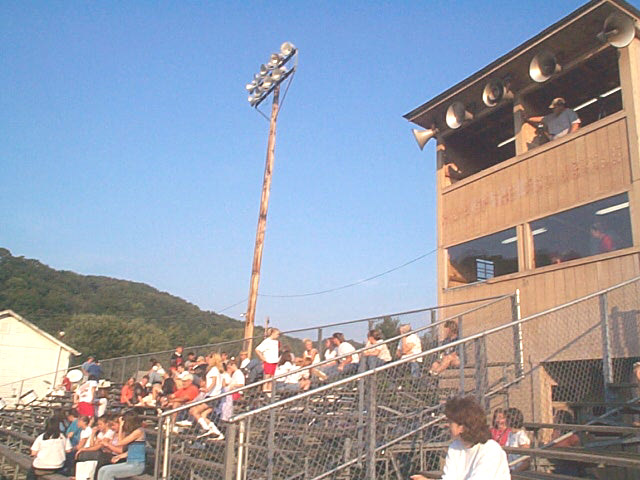 Wayne Underwood Field, one more time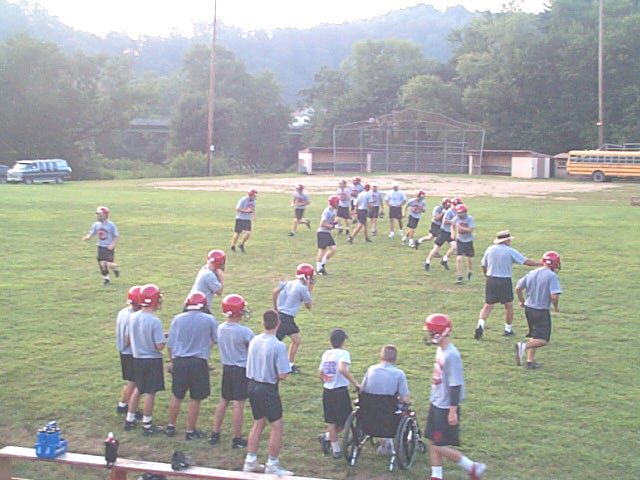 Red Devils scrimmage for the event
Football players were introduced, including Aaron Allison (6' 210) senior; Clayton Barnhart (6'3" 205) senior; Eric Butler (5'11" 177) senior; Keith Carpenter (5'9" 177) senior; Evan Cunningham (6'2" 196) senior; Michael Fitzwater (5'8" 151) senior; Charles Forsyth (5'11" 169) senior; Charles Gibson (6'1" 230) senior; Jeremy Moss (5'11" 140) senior; Jacob Nelson (5'8" 175) senior; Ryan Schartiger (6' 170) senior manager; Gary Wager (5'8" 150) senior; Alex Yoak (6' 205) senior.
John Arthur (5'10" 140) junior; Steve Cason (6' 245) junior; Kyle Craddock (5'8") junior; Kevin Lancaster (6' 159) junior; Zachary Propst (6'2" 235) junior; Kenny Siers (6' 175) junior; Matt Walker (5' 8" 140) junior.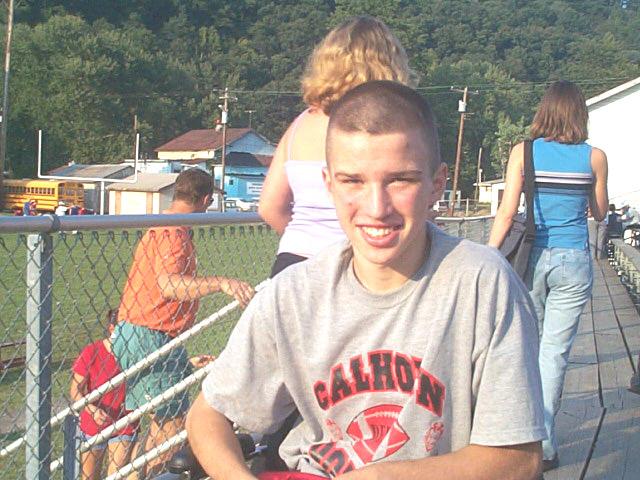 "Goob" Fitzwater joins his team
Marcus Davis (6'2" 203) sophomore; Zach Houchin (5'10" 158) sophomore; Shaun Laughlin (5'10" 145) sophomore; Eric Metz (5'9" 150) sophomore; T. J. Miller (5'9" 145) sophomore; Derek Roberts (5'8" 150) sophomore; Kenny Starcher (5'10" 120) sophomore; Michael Wilson (5' 9" 152) sophomore; Ryan Fitzwater (5'10" 155) sophomore.
Dustin Carpenter (5'6" 152) freshman; Gregory Frederick (5'8" 182) freshman; Dustyn Nichols (5'5" 141) freshman; Justin Price (5'7" 130) freshman; Zach Bailey; Russell Butler; trainer Alan Humphries.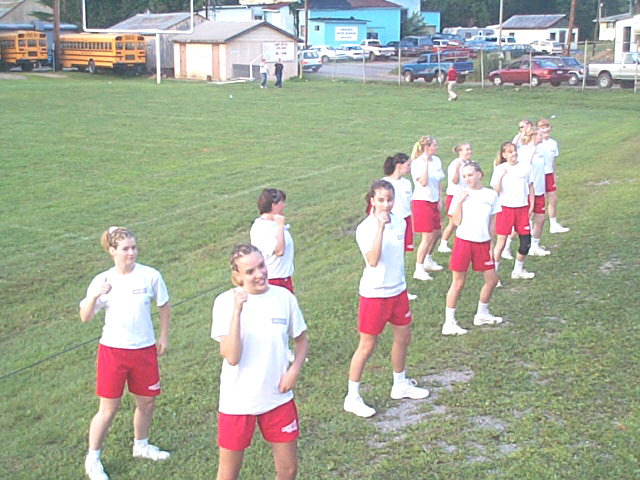 Red Devil Cheerleading squad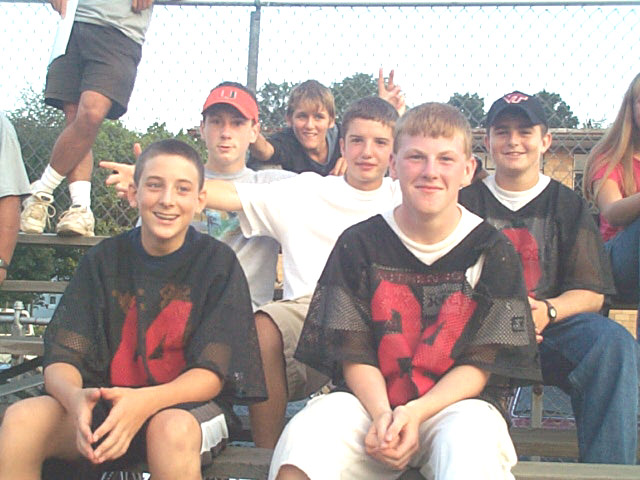 Fans cheer the players
Varsity cheerleaders, Shannon Jones, Suzanne Lynch, Sarah Lynch, Heather Weaver, Emily Yoak, Amber Williams, Lena Gibson, Angie Goff, Holly Burch, Alicia Richards, Whitney Johnson, Mallory Hopkins and Jeanette Starcher.
Middle School cheerleaders, Brittany Cottrell, Jamie Kennedy, Tiffany Davis, Trisha Siers, Roxanne Renfro, Jessia Moles, Britni Whited, Andrea Hardway and Jesse Heiney.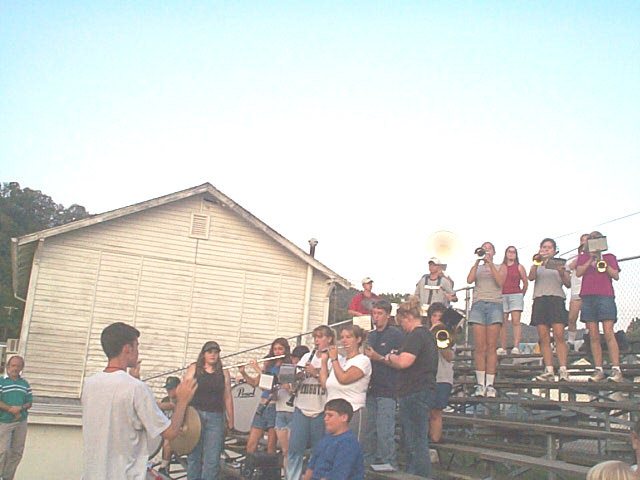 Red Devil band plays a tune under baton of Drum Major Matthew Bonar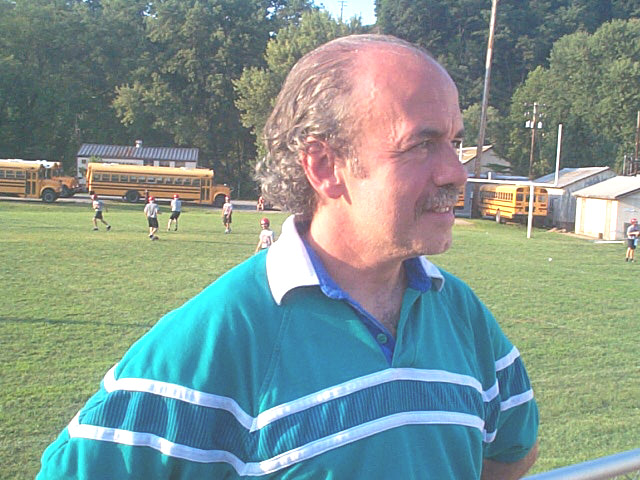 Band Director Harry Beall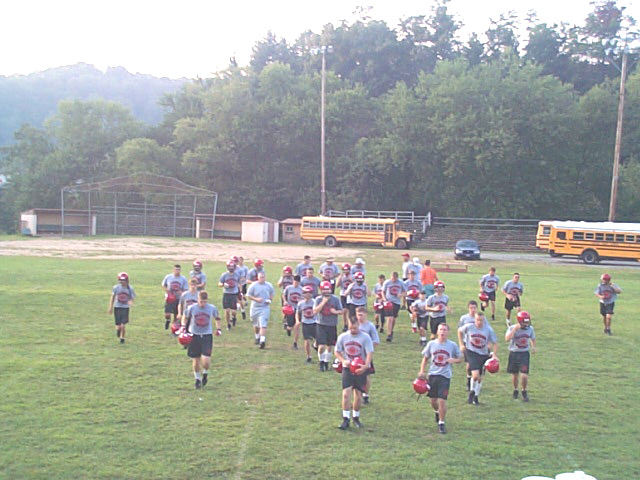 Team takes a break
2001 Middle School Football includes Lee Summers, Bobby Toppings, Steven Cunningham, Paul Goodrich, Zach Ferrell, Brandon Bunner, Mike Sullivan, Justin Whipkey, Jason Cunningham, Josh Funk, Greg Butler, Chad Conley, Grace Keaffaber, Tyler Schartiger and Phillip Parsons.
2001 Soccer team includes Chris Morris, Derek Metz, Jeff Morris, Jared Brewer, Tim Parkin, Espe Clothier, Pat Wildfire, Kelley Sampson, Ryan Bremer, Tyson Price, Chelsie Hupp, Barbara Shock, Ben Miller Tabatha Shock, John Villines, Triston Harris and Ashli Cottrell.
2001 Volleyball team includes Melanie Davis, Kristi Jarvis, Tiffany Jones, Natalie White, Jessica Gherke, Laura Pfeffer, Tia Satterfield, Brittany Church, Chas Garrett, Danielle Goodrich, Tiffany Hall, Melissa Hartshorn, Katie Hupp, Teresa Siers and Kyerstan Garrett.
2001 Cross Country team includes Jeff Buck, Nikki Church, Shannon Jones, Bliss Masiarczyk, Ashley Bush, Caena Stewart, Amber Williams, Davina Masiarczyk, Erica Williams, Ryan Fitzwater (manager).