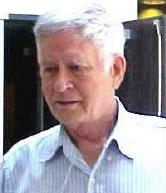 By Jack Cawthon
BBQRun@Verizon.net

I try to avoid Big Puf around Christmas time as my bones have become more brittle with age. In the season of peace and goodwill, often a gathering such as the annual Christmas pageant will result instead of peaceful harmony, many seeking a piece of each other to settle old grievances.

Then Burvil called to say that Christmas this year had been cancelled. Instead the major celebrations would center around Coach Rod taking his team to the "Tater Bowl."

Everyone had been working in harmony, for a change, to keep Coach Rod at that university in Morgantown, Burvil added.

Instead of dinners for the needy and collections to provide for the poor children, or I should say poorer children, as Big Puf had only one economic class, all money was being donated to the athletic fund for the coach. That meant that the Pratlow kids, about half of the youth population, with the Hanshaw coming in a close second, would do without shoes and winter coats, but the parents were in agreement that a little wading of snow and chilly winter breezes would make character. They would learn early on that some causes are more important than individual needs.

As Burvil put it, "If'n we don't raise another million or so for ole Rod, some other big school like Marshall might make him an offer he can't refuse."

A million dollars isn't what it used to be. Lester T. Archibald IV, coal baron, knows this quite well, as he emerges from his seventh bankruptcy. But this isn't as desperate as it sounds. As one company bellies up, he forms another one and keeps going as ever before, an old tradition in West Virginia coal. He intends to use the money with which he planed to buy the next election to unseat long-time delegate Bobby Gene Bubba for the Coach Rod fund instead. Christmas wasn't really dead in Big Puf; only to outsiders would it seem so. There was only one dissenting voice heard, and that came from an outsider, but more about that later.

When I observed the harmony that sports can provide in Big Puf, I began to wonder if the whole theme might work on a global playing field.

Under the direction of that New World order the UN, call all the warring factions in the Middle East together and organize them into a football league. The Sunni faction could play the Shitites, with the Kurds taking on the winner. Call it the Jihad Bowl. The Christians could serve as cheerleaders with a Salvation Army band striking up the old country classic ""Dropkick Me Jesus Through the Goalposts of Life."

We could then turn a blind eye to the winner burning down a part of Baghdad in the tradition established here in Morgantown.

We have the ideal coach in George Junior Bush as he could shout in the heat of the fray, "Stay the course!" Dick Cheney would make a great water boy and Don Rumsfeld could call the play-by-play. Bush could even use a few of his Hail Mary plays.

With a little effort murderous aggressions could be turned into sports aggressions and everyone knows that never causes ill will.

The lone dissenting voice to my plan came from Arley Cleeter, and I attribute that to Global Warming. The books that he burns for winter heat have piling up as a result of a warmer than usual winter, and as a result he reads many of them. You are well aware of how that might wreck a good sports program. When Arley sees all that money that is paid to a winning coach, he begins calculating how much good could be accomplished if it were spent on social programs instead.

Arley, no doubt, is tainted by pinko-liberalism, considering where he comes from and all the books that he reads.

He even had the gall to state that should Coach Rod have a losing season (heaven forbid!) that it should be stated in his contract that he would provide halftime entertainment at some future game. Arley's idea of halftime fun would consist of the coach standing in the middle of the field as four hungry lions were released from corners of the field. While the band played "Hail West Virginia" the coach and the lions would meet, with meat the result.

I doubt that Arley's plan will ever be taken seriously, although I believe that a similar one had been in place at one time for Bobby Bowden's losing seasons. But obscurity has taken care of Bowden. Has anyone heard from him lately? He probably ended up selling used cars in Tallahassee.

In Big Puf, the trip to Bethlehem has taken second-place to the trip to Atlanta. A few wise men somewhere along the line would be a blessing, but after all this is football.