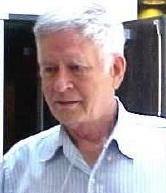 By Jack Cawthon
BBQRun@Verizon.net

Those of us who attempt to write know the power of words. To my critics, should I have any, I just say that I have only 26 letters of the alphabet to work with. If they don't like the way I use them, then they are free to take the same 26 letters and arrange them to suit themselves.

Words can be threatening and meaningless. For example: "Stay the course;" "Complete the mission;" and Bring it on!" may serve as examples of both, and the ever-present greeting of "How are you?" has no meaning, usually, as the person expressing it doesn't really want to know about my arthritic knees, a sinus headache, or an erratic heartbeat. I am reminded of the man in the play "Harvey" who thinks he is a rabbit, when told by someone he meets to "Come see my sometime," replies "How about Tuesday?" This, of course, throws off the greeter who had no intentions at all of getting together.

Without a doubt, the scariest words I hear this time of season are "Just stand in one place, and I'll find you." The Little Woman (5 ft., 2 ins.) offers this advice once again as we enter a store for Christmas shopping.

Have you ever tried standing in one place for two hours in a Wal-Mart during the Christmas rush? With my age and distinguished looks, people are apt to take me for a Wal-Mart greeter, or would if not for the scowl on my face, disqualifying me for a position on the Wal-Mart team as a happy associate.

The Little Woman (5 ft, 2 ins.) might be more appropriately described in today's political correct world as "height-challenged." However, I continue to call her "short." Then, again, at 6 ft., 3 ins. I might be considered height-challenged in the other direction. Either way, I am challenged by height whenever I try to find her, and, in most instances, completely mauled in the mall in the process.

She can go into a practically deserted store, although there aren't that many this time of year, and disappear as quickly as a ship entering the Bermuda Triangle. It's enough to instill belief in the paranormal.

Just recently, she uttered those immortal words as we entered a new Super Wal-Mart here in Morgantown. And like Charlie Brown falling for Lucy holding the football and then yanking it away at the last moment as he tries to kick it, I am once again a sucker and dutifully figure this time I can find her on my own, as the store doesn't look that crowded.

I soon finish my shopping. Here is a question I've long pondered: How do women spend so much time shopping? I've come to the conclusion that it isn't the time spent looking for items, as it is the time spent in the examining of them. If I intend to buy, say, a quart of oil for my old truck, I go to the auto department and pick a container off the shelf, put it in the cart, and I'm on my way.

In contrast, a woman would pick up the quart of oil, (although most women wouldn't be buying this item to begin with, but hang with me, as I'm trying to make a point) roll the container around in her hands, check the color, read the label, put it back on the shelf and continue in the same manner with all the other brands displayed. A dedicated woman shopper could spend up to three-quarters of an hour or more before finally picking up the first quart of oil and putting into her cart.

All this time I have finished, and I am trying to stand in one place and wait, as didn't the poet say something about those who stand and wait will be served, but didn't specify the time involved, if I remember correctly. I have never liked poets much better than shopping with the Little Woman (5 ft., 2 ins.).

When I can no longer stand the standing, and shoppers and store employees have begun to look at me as having some resemblance (paranoia can be brought on, I'm certain, by standing in one place in a crowded store, although I have been long considered a candidate for this affliction by what I consider normal behavior) as a fugitive shown on "America's Most Wanted."

I then do something foolish, if you disregard the time spent standing in one place. Something I have been warned not to do. I go on the search. Walking up and down every isle in the store several times I see no sign of my illusive prey. I begin to think I should pray.

Fortunately, there is a Subway eatery in this Wal-Mart, so I check out my items and tell the check-out woman my troubles, as if she doesn't have enough of her own just working at Wal-Mart. She offers to do a missing person page, but I know this will be of little use, as the Little Woman (5 ft., 2 ins.) doesn't pay attention to background noise, having found out by example. So, I do the logical thing (for me). I saunter over to the Subway and order a hot chocolate and three cookies.

I'm down to the bottom of the cup and the third cookie when I look over at the check out, and there she is. I wave good-naturedly, as, after all, this is the season to be jolly, and she comes over. "Why didn't you stand in one place?" she asks. "I've been all over the store looking for you."

I don't remind her that I'm 6 ft., 3 ins., and stand way above the store top counters. As I have said this is the season for peace on earth, and, I hope, goodwill toward men, at least one who stands as tall as I do, and who is just a trifle bit tired, but somewhat refreshed by a cup of hot chocolate and three cookies. Ain't sugar wonderful as a picker-upper?