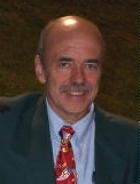 Ongoing Articles of Annoyance

By Harry Beall

Interestingly enough, this is a question asked by every generation. Our grandparents asked it about our parents, our parents asked it about us, and we voice it concerning our children. Let's say, for the sake of argument, that there is something wrong with today's youth. A parent might say "My child just sits and plays video games all the time", or "My kid never stays home. He just wants to run around and hang out with his friend".

If there is a problem with the youth of today, it would seem that we as parents should claim some of the responsibility. If we do not want them playing video games constantly or running around all the time, maybe we should help them structure their time a little better. We could involve them in constructive, but fun activities.

My personal opinion is that there is absolutely nothing wrong with our youth. Sure, occasionally there may be a "bad apple", but for the most part they are just fine. I have over a hundred students that pass through my music classes everyday. Some days they are as wild as bucks and I get a little angry with them. This is natural. Kids will be kids. After all, they are supposed to be a little wild. They're kids!

Here is my experience. Everyday, when I walk into my classroom, something new and wonderful happens. It is always a surprise and the students are always behind it. Sometimes it is just one of them acting silly or laughing with friends. Sometimes it involves a student doing something extraordinary.

When the band would have a practice the night before a football game, sometimes the rehearsal would go badly. I would jump and yell and act like the world was going to end. I was sure the performance would be a disaster. But they would consistently take the field the night of the game and perform an outstanding show. Now I joke with them and tell them they do it on purpose just do make me crazy. But, I know I can depend on them to take care of business.

I have a trumpet player in the band that has always stayed more or less in the background. He always knows his parts, but is happy to play 2nd or 3rd trumpet and fill in where he's needed. The other night at a football game, my trumpet soloist could not be there. Jordan went out there on a moments notice and played solos very well and without any complaints.

One of my students is close to virtuosity on the piano. She takes lessons and gives recitals on a regular basis. I am a terrible piano player, but she always comes to me and asks me if she can play her song for me before her recital. It is amazing to me that a student as talented as Rayme makes such a show of courtesy and respect.

These are just a couple of the countless ways my students make me proud everyday.

I would rather spend the day with my kids than most of the adults that I know. They are fun loving, courteous, helpful, intelligent, creative, passionate, tolerant and talented. They are an endless supply of energy and a surprise at every turn. I am one of the luckiest people I know because I am blessed enough to spend most of my days with these glorious individuals.

These students challenge my knowledge and ability daily and they keep me young at heart. So, to all the "kids" I know, stay who you are. Don't let the short-sightedness of us adults stifle your energy and creativity. You are the future of this world and from my perspective the future looks pretty bright. There is nothing the matter with you, except from our own limited perspective.