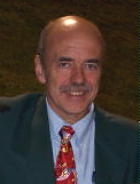 Ongoing Articles of Annoyance

By Harry Beall

Have you ever had a pair of sox in the dryer and when you go to get them out there's one sock missing? It's never the pair, it's always just one sock. What are the odds? For years I have pondered what happens to these socks. I always have this enormous pile of socks with no matching pair. I usually keep these socks in a separate place hoping that eventually the mate will turn up.

This is yet another of the great mysteries of the universe. Where do these socks go? I have a couple of theories.

I kind of believe in the sock gnome. This is a little green elf-gone-bad. He was probably a good elf at one time and got barred from his exclusive club. This gnome lingers in the darkest corners of your house. He is hard to see when he is stationary, but when he moves he is very fast and practically invisible.

He watches silently as we do our laundry and as soon as the dryer clicks off he does his dirty work. Quick as lightning opens the dryer door and goes for the nearest sock. Since these gnomes are of elvish decent, they are very good at hiding things. So if you are missing a sock to the sock gnome, you just as well give up the search until he decides to bring it back to you. However, here in lies the problem.

These cantankerous little rascals also know where you keep your mismatched socks. He watches this pile very closely. When you finally give up on ever seeing the mate to a sock you have been saving for 6 months and throw it away, the gnome is aware. He takes the missing sock and slips it back into the dryer or at the bottom of the dirty clothes. It's enough to drive you stark raven mad.

My other theory is a bit more scientific. Somewhere in the back of your dryer is some sort of black hole or inter-dimensional pathway. This vortex is most likely created by spinning motion of your dryer. Sometimes when the dryer is spinning and is particularly hot, this vortex opens up and voila! There goes the sock. It must be a very small vortex, because nothing bigger than one sock every goes through. Occasionally this vortex brings socks back from this other dimension, but once again, only after the socks mate has been disposed of. I think it has something to do with the balance of the universe.

I know what you're thinking, that I'm crazy. Well, I am open to alternatives. If you know where my socks are going, please ... tell me!