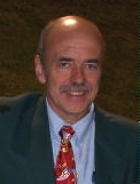 Ongoing Articles of Annoyance

By Harry Beall

The other day I had just finished work and was getting gas at the local 7-11. I got out, started the pump, waited for affirmation, and began pumping. That was when I felt it. You know, that prickle on the back of your neck. It was just an uneasy feeling that someone was watching me. I looked around and there she was.

She was a rather well dressed lady with white hair and glasses, and she was staring at me. Our eyes met for a moment and she looked away. Well, I thought, that's the end of that. A minute later I looked and realized she was watching me again and again she looked away. I immediately and as discretely as possible, started checking my status. My hair was OK (what there was of it). No stains on the front of my pants. My fly was closed and there was no toilet paper or poop on my shoes. Yep, I was in good shape.

Then why was this woman staring at me? My personal space was being compromised ... from a distance! I did the only thing I knew to do. I started staring at her. Every time she looked up, she caught my stare and looked away. I could see she was becoming uncomfortable. Oh my, revenge is sweet! She eventually walked back in the store. I finished pumping my gas and went inside to pay for it. As I left I looked over my shoulder and saw her watching me again. I laughed out loud. It had become kind of a game, at least for me. She did not seem amused, however.

My mother was always quite a character. She did not go to church very often, but would occasionally venture out to the Sunday meeting. On one of these occasions when I was about 10 years old, we were sitting in one of the pews and a lady in the front kept looking back over her shoulder at us. She had very thick glasses and a sour expression, which gave her a somewhat comical appearance. At that point, my mother leaned over and whispered something in my ear, which caused me to fall into disfavor in that church forever more. She said, "That lady's been eatin' gawk seeds". I started laughing hysterically and, needless to say, we had to leave.

My daughter, Amber, has this funny little game she sometimes plays. She will peek out from some inconspicuous place or from underneath her hoody and say, "I can see you, but you can't see me". She is kidding, of course. She knows that we can see her. Sometimes, however, I wonder if those people who stand and stare at you think they are invisible. "I am watching you, but you can't see me. So don't pretend like you can by staring back."

Oh well, I suppose I should take some solace in knowing I am worthy of such attention. Any, if you who are of a mind to monitor my activities with close scrutiny at some point in the future, here's looking at you!