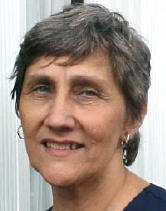 By Ann Richards

This is the ongoing story of Charlie, the stray cat that came into our lives this summer of 2006. It has a happy ending.

When I last wrote about Charlie, I was sure he had left never to return. I had been away from Nobe for a month and when I returned home I assumed that Charlie was still missing.

To my delight, I was told that Charlie had returned while I was away. I went to visit him.

He had taken up residence with Auntie and was no longer a stray cat. He was fat and all the cuts from fighting were gone. It seemed like a miracle he was so different from the last time I had seen him.

Charlie was happy and well. He had his own special place to sleep out under the old chair on the front porch. He expected Auntie to sit out there every evening and hold him on her lap and pet him.

The other cats, the Girls, still despised him and swatted and hissed at him when he showed them attention. They all kept their distance from him. But, he was not loosing sleep over them. Their unfriendliness didn't matter since he had his special place in the household.

But, Auntie had too many cats and something had to be done. It would do no good for me to take him home with me again, because we already knew he would come back to Auntie. We talked about the Humane Society, but didn't have the heart to leave him there. What to do? We didn't know.

Then, a friend called Auntie and it was an answer to prayer. When she heard about Charlie, she offered him a home.

So, we drove to Reedy, West Virginia to take Charlie to his new home. It was a beautiful autumn day and we enjoyed the farm land in that area. As we drove we saw goats, cows, and horses grazing on the hillsides. Our drive took us to a beautiful new house, with acres of farmland with clean cut meadows and tree covered hilltops.

Charlie's new owner, Joyce is an animal lover and it was apparent that all the animals there were in love with Joyce. Cats, dogs, ducks, chickens, cows and even wild animals were all living there. There was an atmosphere of contentment on this wonderful animal refuge.

Joyce was happy to meet Charlie. He was afraid of this new place, but all the other cats were totally interested in him. They greeted him with meows and rubbing all over his carrier.

We left him there and felt good about it except for missing him for the next few days. When we called about him, Joyce said he is doing well and is content with the friendly cats there.

We miss Charlie, but are very glad to know he has found a good home where everyone likes him.

If he doesn't try to come back here to Nobe, Charlie will grow old at Reedy, West Virginia with plenty of happiness all around him.