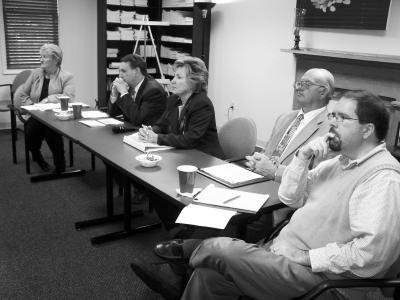 Panel members participate in community dialog at Challenge's October conference, left to right, Linda Martin, Challenge Coordinator; Sen. Robert Plymale, Chair of Senate Education Committee; First Lady Gayle Manchin; Del. Larry Williams, Vice-Chair House Education Committee and Jay Cole, Director of Govs. Education Policy (not pictured Del. Thomas Campbell)
By Dianne Weaver
The state has targeted 121 more elementary schools for closure, in some cases creating long bus rides for children as young as four.
Robert Plymale, the chairman of the WV Senate's education committee, told Challenge WV members that "No School Building Authority money should be spent on an elementary school that is going to exceed a 30-minute bus ride."
Speaking at the group's annual conference in Charleston, Plymale expressed concern about the proposed closure of the 121 elementary schools.
West Virginia has already consolidated hundreds of public schools, creating long bus rides for several thousands of students, many on school buses over one-and-one-half hours each way.
"We need to require the SBA to report each year on true travel times at all grade levels to LOCEA (Legislative Oversight Committee on Education Accountability)," he said.
Challenge WV says the state has failed to provide accurate travel times.
Linda Martin, Challenge coordinator, said "We are happy that Senator Plymale will champion the cause of keeping our small children in their community schools."
The conference - "Our Communities, Our Schools" - focused on creating a dialog over the future of community-based schools, also included a discussion with first lady Gayle Manchin, House education committee chairman Del. Thomas Campbell, House education committee vice-chair Del. Larry Williams and Director of Education Policy, Jay Cole, office of the Governor.
Sen. Plymale said something could be put in legislation, if a county chooses to exceed travel guidelines, they would have to pick up the cost of transportation.
"We should look at renovation, especially in elementary schools, whenever possible, rather than closure or consolidation," Plymale said.
Linda Martin said Challenge's long-time mission is to stop the harm. "We want to save the smallest children from what has already been steam-roller consolidation," she said, expressing pleasure that legislators have realized the value of community schools.
Gayle Manchin said "With a position now open on the SBA, it gives a new way to assure the SBA is not the same it's been in the past, with different priorities."
Manchin says consolidated schools have less participation and a lack of unity. "Students do better when parents and community are involved," she said, "Of great interest to the Gov. and myself is to make sure every child has the same opportunities."
Delegate Campbell, a long-time advocate of community-based education, said "Greenbrier County has Eastern and Western Greenbrier Middle Schools. Western has 400 students and Eastern has 800-900 students."
"Teachers tell me that Western is a good model (size and enrollment) and Eastern is too large, students get 'lost' in large consolidated schools," he said, saying distance learning and technology lends to place-based education.
Jay Cole says he expects the 2007 legislative session to center on education. "The school aid formula will be a big part of that discussion," he said.
"Anecdote is not the plural of data," he said, indicating education decisions need to be made with good research and facts, "The school aid formula is complex and we need data to change it and provide an equal education."
Del. Larry Williams, an advocate of place-based education, has been a leader in the legislature to "turn the tide" against school consolidation. He was recognized for his community education efforts with a special presentation during the conference.
Responding to questions, Sen. Plymale, who was the only legislator to serve on the No Child Left Behind task force, said "NCLB is the race to mediocrity, the highest level we've decided to reach is mediocre," saying it is important to give teachers the tools to enhance performance.
"We've been working on some things such as the teacher shortage in the eastern panhandle, getting qualified math and science teachers into rural counties," Plymale said, indicating he doesn't know if he agrees with economies of scale.
Citing Cabell County, Plymale said they have created some mega schools, "I don't agree with it. I don't think it's right and I don't think SBA money should be spent on it."
He said rapidly improved technology during the past five years has helped maintain community schools, saying we need a broad-band initiative that would reach every nook and cranny in the state.
Plymale lamented that WVs assessors are not assessing at the constitutional level of 60%. "Shame on them," he said, indicating their failure to follow the law impacts public education.
Martin said corporations own 51% of the land in WV and 76% of the minerals, but regular property owners pay 84% of the taxes. "The legislature, lobbied by the corporations, placed a 4% cap per year on what taxes they would have to pay.
Martin says "Schools belong to us, our communities," not an educational bureaucracy, "We know that the smaller the schools, the higher the achievement." She said citizens and taxpayers need to stand up as voice for a democratic society for the place they stand on the earth. While catchy phrases may impress people and have some purpose, "Globalized students are citizens of nowhere."
Revising the state aid formula to help rural students should be a major priority of the legislature, she said.
Martin expressed appreciation to the panel for their contribution to the discussion.