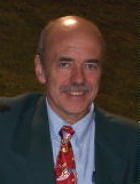 "Ongoing Articles of Annoyance"

By Harry Beall

Most of the issues I have written about have a humorous side. This one, however, strikes at the heart of all that is wrong with our society.

When I lived in Nashville, Tennessee, Trina and I belonged to the "Institute for Racial Healing". This is a wonderful organization that raises awareness in matters of racial injustice.

We became aware of simple everyday phrases that are so subtle one would not even think about them as racial slurs, unless you were on the receiving end. Apparently harmless words such as "black sheep" can tear at the fabric of unity. Some phrases are subtle and others are quite blunt.

Blond jokes and Pollock jokes or negative jokes and comments about any group of people contribute to these injustices. When I hear the "N" word, I can feel all the worlds' injustices closing in on me.

It is the way of the world. All that is fair and wonderful appears as light and bright. All that is evil is black or dark. Come on, I have seen people in white suits that make Darth Vader look like a philanthropist. It makes you wonder about the origin of these seemingly innocent utterances.

Regardless of the origin of these words and phrases, the existence of prejudice runs rampant and is a terrible injustice. If you look at any war in the history of our beloved planet, some form of prejudice will inevitably raise its ugly head. It's not always racial. It may be class oriented or religious. It might be educational or environmental, or they may involve more than one of these.

Religious prejudice is the one that always gets me. To declare war or instigate acts of terrorism in the name of God is beyond all reason. To fight about the one thing in this universe that is here to unite us makes no sense. Thousands have been slaughtered in the name of Creator. I cannot even conceive of it.

We all should learn to be more conscientious of how we talk about or treat others who are different. The nerds, plastics, band geeks, jocks and preps all have the potential to make wonderful contributions to society. What would happen if we were to get all of these groups working together toward a common goal instead of fighting each other? WOW!

In Doddridge County, I have a young man in my high school band. Whenever there is conflict in the ranks he says, "Why can't we all just get along?" He is a kind and gentle soul who worries about people fighting. I personally think he should be elected as the International Relations Advisor. Whenever there is conflict, the countries could go to him and he could say "all of you just get along!". Problem solved!

Thank you Lucas, for the wisdom and insight from a youthful heart.