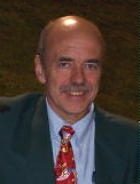 "Ongoing Articles of Annoyance"

By Harry Beall

One of my favorite things to do is watch a good movie (usually Sci-Fi) or one of my regular TV shows on television. I have very little time for it, so when it happens, I am ecstatic. It is a relatively mindless activity and after a long day of classroom coordination, lesson plans, online master's classes and extra duty assigned by the principal, it is a welcome release. However, even this has its disadvantages.

It seems like the show will air for about five minutes then, lo and behold, the dreaded commercials start. It's actually more than 5 minutes of show time (about eight I think), but the commercials seem to last forever.

On some networks (especially TNT), I can get a shower and make coffee before the show comes back on. I realize that networks need sponsors to pay for the airing of these programs, but it seems like the programs are getting shorter and the commercials are getting longer. I think it would be a good idea if they could just stick all of the commercials at the beginning of the show. You could have 25 minutes of commercials at the beginning of the hour and finish the hour with the actual program. Thirty-five minutes of program is about all you get anyway.

The length of the commercials is not the worst of it. The networks air them at twice the volume. We all know why they do this. When the commercial comes on, the first things we do is get up to fix something to drink or go to the bathroom. They want you to hear about their product over the toilet flushing. It is a little unnerving, however, to hear the voice of a talking gecko through the heater vent when you are sitting on the throne. I like the little guy, but I don't want him in the bathroom with me.

Sometimes on the weekend, I like to stay up late and watch movies. Trina always goes to sleep earlier so I try to keep the volume down. One night I was watching a Harry Potter movie and a commercial came on. It was so loud that Trina sat straight up in bed and said "What! What's the matter!!" "It's nothing honey….just a commercial." I thought she was going to run me out.

Well, I suppose there's nothing to be done about it. As long as there is TV, there will be commercials. It does make me feel better to complain about it though.