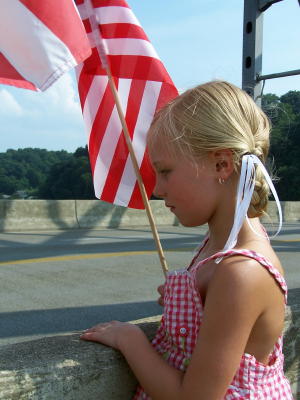 A child waits on a Charleston WV bridge, a "Patriot for Peace" protester, waiting for President George Bush en route to a $4,200 per couple fundraiser for Congresswoman Shelly Moore Capito (Hur Herald Photos)
"When you're weary, feeling small,
When tears are in your eyes, I will dry them all;
I'm on your side. When times get rough
And friends just can't be found,
Like a bridge over troubled water
I will lay me down.
Like a bridge over troubled water
I will lay me down." - Paul Simon
By Bob Weaver 2006
Americans are generally confident that our wars are necessary, moral and just.
We don't like to recall ill-fated wars that were not, like Vietnam, whose political instigators now admit it was fought on "a bright and shining lie."
Author Gore Vidal famously referred to this country as the United States of Amnesia.
Iraq is a 21st Century version of Vietnam.
So what if there were no weapons of mass destruction or Iraqi terrorist links to 9-11, we now tome the importance of rescuing the multitudes from an evil despot and bringing freedom to one of the world's oldest civilizations.
The national discourse has been void of critical thinking about what our foreign policy should be, what constitutes our national values and interests. Time magazine said the Iraqi War could be the end of "cowboy justice."
While many wars have been fought with "God on our side," it is an incredulous interpretation of the teachings of Christ, nonetheless used by many religious (and the government) to support the invasion of Iraq and establish our values in someone else's neighborhood.
Americans get most of their news and views from TV, sharply honed to keep viewers hooked to their channel, a corporate 'frenzy feeding' news-entertainment media.
Most of us are unaware in the 1990s that two million human beings died in Afghanistan, one-and-one-half million died in the Sudan, some 800,000 were butchered in Rwanda, a half-million died in Bosnia, 200,000 died in Guatemala, 150,000 died in Liberia, a quarter-million died in Burundi and 75,000 died in Algeria.
We're now confronted with the possibility of 650,000 civilians being killed in Iraq.
During the 20th Century, 62 million civilians died in wars.
It is has been strange times for those who oppose the Iraq War, un-patriotic, treasonous and non-Christian.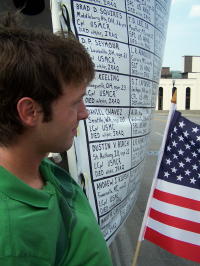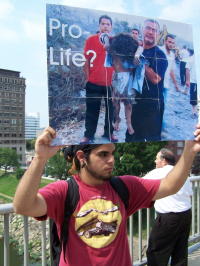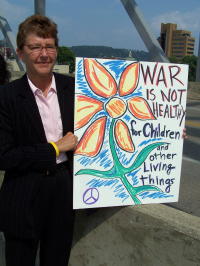 Patriots for Peace protest Iraqi war
on a Charleston bridge (Hur Herald photos)
The administration, after crafting Iraq as the principal demon in the "War of Terror," and then admitting there were no weapons of mass destruction and no direct relationship to 9-11, now finds itself dangling with an ill-begotten conflict - no victory, no end.
While terrorism is a real and ominous threat, it has been connected to most everything.
The government pretends we're protecting Americans at our borders, certainly not the free-flow of hundreds of thousands of illegal "immigrants" who pass across the US-Mexican border every month. We need their labor to keep the economy going.
Secretary of Defense Donald Rumsfeld a few days ago suggested that those who oppose the war were much like Nazi sympathizers.
That bastion of left-wing politics, the Army Times, is calling for his removal.
We are now admitting we have secret prisons around the world that practice dubious intelligence techniques, which we have also claimed to deplore. So much for the Geneva Convention.
We should not be worried about the executive branches secret wiretapping and intelligence gathering from computers without search warrants, only to be used on the "bad guys." The Patriot Act rises above civil liberties and constitutional law.
America has always been a country about moving forward, getting over it, a nation of immigrants for whom leaving the past behind was a geographic, psychological and often political act.
We're been asked to believe the current administration represents America's traditional conservative values.
That may have been the greatest mis-representation.
It is surely time we stop and re-think what direction we need to take in a dangerous new world.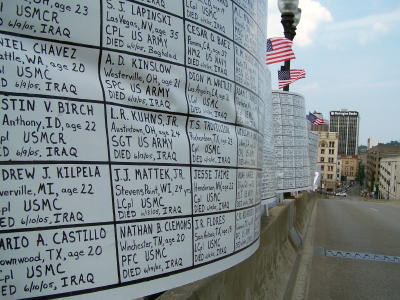 Signs with Iraqi war dead, a protest by WVs Patriots for Peace on a Charleston WV bridge waiting the arrival of President George W. Bush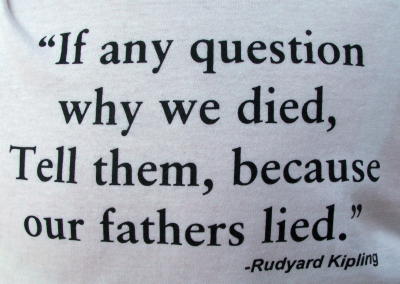 Rudyard Kipling "Epitaphs of the War"
(Hur Herald Photos)