By Dianne Weaver

Long bus rides of an hour or more are common in many West Virginia counties, with the numbers getting worse with the closure of community schools.

West Virginia's bus transportation system has been described as the most expensive in the USA, and that was before rising gasoline prices.

Long bus rides have been a long time experience for Calhoun's high school students, since the county has always had a consolidated high school.

When grades five and above were moved to the new consolidated school at Mt. Zion,younger students have been affected by longer bus rides.

Super-long bus rides are affecting several thousand students, mostly in southern West Virginia.

Challenge WV continues to dispute the WV Department of Education statistics about long bus rides exceeding the state's guidelines.

The department's last figures show a decline in long bus rides, which is highly unlikely given school consolidations.

In McDowell County, Superintendent Mark Manchin appeared to solve the early to rise problem, announcing that no school will be open before 8 a.m. and several won't open before 8:45 a.m.

Previously McDowell schools opened at 7:30 a.m.

Manchin's solution is in response to many students getting out of bed at 5:30 to to be standing along the highway by 6 a.m. before the crack of dawn. Pre-school kids, some as young as four, are affected.

McDowell is a county that fought some bitter battles over the closing of their community schools.

Manchin says students do better in school if they get a little more sleep, but he fails to mention the county's school day will extend into the evening and how that will affect the student life, certainly making it difficult to return for extracurricular activities.

The most recent example of long bus rides is with the opening of the new consolidated high school in Lincoln County, with many students on a bus to Hamlin up to two hours, one-way.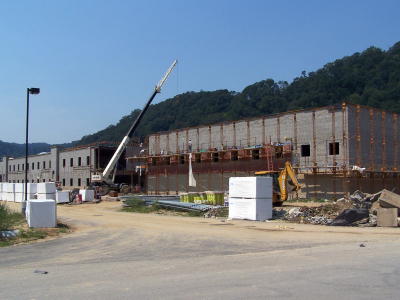 Logan County's Chapmanville school is being built to attract southern Lincoln students
Students in southern Lincoln County have been encouraged to cross the county-line into Logan County to shorten the ride and attend the under construction complex at Chapmanville.
While the distance to Chapmanville is much shorter, because of bus scheduling problems in Lincoln, the ride time appears to be about the same.
Calhoun County in 2004 had 247 students exceeding the state's guidelines for time spent traveling to school, according to Arvin Harsh of Challenge WV, a small schools advocacy group.
There were 35 high school students on a school bus for more than one hour in Calhoun County, he said. Preston County had 418 and Mercer 202.
A member of the State Board of Education once told a Lincoln County parent at a public meeting, they should sell their property and move closer to the school.