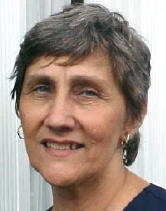 By Ann Richards
heartpaths@yahoo.com

This story is about a lady who did not deserve what happened at Wal-Mart one day as she was shopping. This lady is kind and good to all and loves her family, friends and neighbors.

What she was shopping for that day, we're not sure. Maybe it was spring house cleaning. Maybe she wanted to paint the house.

Her son was with her and was in a different part of the store having no interest in her reason for being there. He had other interests as most young men have. Certainly nothing domestic.

Anyway, this lady was in the paint department. To this day no one knows whether she was shopping for paint or just meandering though that part of the store. It all got lost in what happened next.

It may have been a customer in a hurry or just someone who didn't care, but she moved her shopping cart to allow that person to get by and when she did the cart bumped into a can of paint knocking it off the shelf. The can hit the floor and the lid flew off. Black paint went everywhere.

The other customer disappeared. No one else was anywhere to be found.

There she stood coming to the realization that she had black paint all over herself as well as on the floor and anyplace else the paint could go.

She couldn't see. The paint was on her glasses, on her clothes, on her arms, in her hair and on the items in her cart.

Recovering from the initial shock of what had happened, she stood there thinking that someone would be there soon to help her.

She waited, but no one came. So, she started out to find the ladies restroom and having found it, went in and started grabbing paper towels and wiping the paint off.

The few women who were in the restroom made a quick exit. No one offered to help.

I'm not judging them. I'm not sure what I would do in the same situation. The temptation would be there to get away from such a mess for fear of getting black paint on myself as well.

Others came in and went out as this good woman worked and worked trying to wipe off black paint that wasn't coming off very well. She thought they were all thinking " Who is this crazy lady wiping paint off herself?"

Finally she took off her blouse and continued to work getting the paint off, not accomplishing much in the effort. All the time others keep coming and going and staring at her as if they had never before seen a lady in the Wahl-Mart restroom wiping black paint off herself.

She kept thinking surely someone would tell a worker that she needed assistance.

Finally, one of the ladies who worked there came and decided there was nothing anybody could do to help and left. To this day, no one knows what became of her either.

After getting all the black paint off she could possibly get off, she put her paint splattered top back on and went back out to find her son. The absence of helpful people was astonishing. They looked and pretended not to see and went the other way.

She couldn't see very well without her glasses, but she finally found her son and told him that she knew he was only 15 and didn't have his driver's license yet, but he was going to have to drive her across town to get her glasses cleaned.

That was just fine with him. He wanted to drive anyway and did just fine getting her to the place she needed to go.

Using your imagination, you can see how uncomfortable the remainder of the day probably was, especially since they had to travel 50 some miles to get home.

As she told this story to us one evening, we all nearly fell off our chairs laughing.

Now that it was all over, even our gracious lady laughed. She does have a way of making it all funny when she tells about the wild things that sometimes happen to her.

The moral of this story (if it has a moral) is. Don't take it seriously when you read the question on the associate's smocks that asks, May I Help You?

What do you think? Does it look like I need help?