By Bob Weaver

Twelve-term Congressman Alan Mollohan (Democrat-WV) is in political hot water after stories broke about his earmarking federal funds to non-profit WV corporations he began to establish in the 1990s and his rapidly increasing personal wealth.

His problems have hit almost every national publication and TV network.

Mollohan has strong family ties to Calhoun and Gilmer counties, his father, Robert H. Mollohan, a former congressman is from Calhoun, whose wife's family is from Glenville.

A conservative watchdog group says the congressman's assets grew from no more than $565,000 to at least $6.3 million between 2000 and 2004, in what the report says is a growing real estate empire.

The National Legal and Policy Center has claimed that Mollohan's financial disclosure reports contain errors.

It has criticized Mollohan for steering about $250 million in federal funds to non-profit groups that he helped establish.

More than two dozen organizations with ties to Mollohan reportedly have been subpoenaed, and one nonprofit has reportedly shipped 160 cartons of documents to the U.S. Attorney in the District of Columbia.

The reported widespread receipt of subpoenas comes less than two months after the National Legal and Policy Center disclosed that it had filed a 500-page complaint with the U.S. attorney on February 28 claiming "hundreds of ethics law violations" by Mollohan.

Mollohan denies there is a problem, but he has resigned from the House ethics committee.

Dozens of civic leaders in Mollohan's district have come to his defense, saying he has done nothing illegal and the allegations are directed toward eliminating his political career.

"He has done a lot to help Calhoun," said school superintendent Ron Blankenship, even though the county is not in his district. He delivered $200,000 to complete the CM-HS athletic field and administrative offices at Mt. Zion.

He has been a significant supporter of Glenville State College.

A source close to a north central West Virginia high tech community, who would speak only on the condition of anonymity said, "I've been told there have been between 25 and 30 organizations in north central West Virginia who have received subpoenas that are extremely broad."

U-Haul trucks with records from Mollohan supported groups have been hauling boxes to Washington. The FBI and other oversight groups are involved in the investigation.

The investigative study broke in the Wall Street Journal, New York Times, and Washington Post. They have published information regarding Mollohan's soaring personal wealth.

The report alleges that Mollohan likely used some of the $150 million dollars he secured in Congress to leverage his wealth, although the money was directed to historic preservation projects and high-tech endeavors, mostly in his district.

The study has created a controversy about mixing commerce and earmarked appropriations secured by congressional members, indicating some of the groups may have used funds in land deals to make money.

The conservative watchdog group says the Congressman has questionable real estate dealings and has used his foundations to extend federal largeness to his supporters, friends and acquaintances, many of whom have returned money to his campaign.

The FBI is reportedly issuing a subpoena for the financial records of the Vandalia Heritage Foundation, a non-profit group dedicated to restoring old structures, and the Vandalia Redevelopment Corporation, which has been called into question.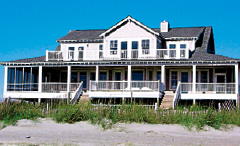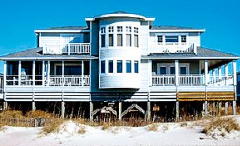 Alan Mollohan's beach house is next door
to Laura Kuhn's beach house at Bald Head Island, NC
Both organizations are overseen by CEO Laura Kurtz Kuhns, Mollohan's longtime associate and business partner. Kuhns appears to have been responsible for purchasing undeveloped land, whose value, in some cases, has skyrocketed.
Ken Boehm, chairman of the National Legal and Policy Center, has said that Mollohan's business dealings with Laura Kuhns "is about as big a red flag as one can imagine."
Kuhns, a former Mollohan staffer, runs the Vandalia Heritage Foundation, a nonprofit organization headquartered in Fairmont that is financed with federal money.
Kuhns and Vandalia had oversight locally with the restoration of the Stump Hotel in Grantsville, a $208,000 plus project contracted to an Ohio restoration company, which somehow failed to complete the outside of the old structure and infrequently worked on the project.
The architect for the small project got $35,000.
Cecil Underwood defeated Mollohan's father in 1956 after it was revealed that he took $20,000 and two cars from a coal operator that stripped land at the Pruntytown reformatory when he was superintendent.
Robert Mollohan's history can be found under PEOPLE, HUMOR AND HISTORY.