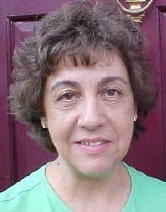 By Alice Hickman

Well, here I sit. Dreaming from my back porch. Heavy rain pounding like popcorn on the metal roof. Wheelchair with leg lift to accommodate my broken ankle and air cast.

I've had a slight detour the last four weeks; for healing. A few more weeks to go and then a trip down the lane called "Learning to walk again".

The hike I had planned this summer has been postponed for a later season. I will resume a vertical position soon and begin a slower stroll on two feet instead of one.

Now, on to higher prospects!

I've recently been inspired by my niece April, who is presently well on her way with a thru hike of the Appalachian Trail; a total of around two thousand miles in the span of six months. I am glued to her trail journal website which she updates frequently.

This has aroused an old aspiration that has been lying dormant for many years. I suppose I am a trail blazer at heart.

During my downtime, I am web surfing and beginning to lay out my prospective hiking trails and shopping around for boots, backpacks, sleeping bag and gear. Only the light weight versions of course.

Hey, being fifty something and a baby boomer is triggering the vision of a new horizon.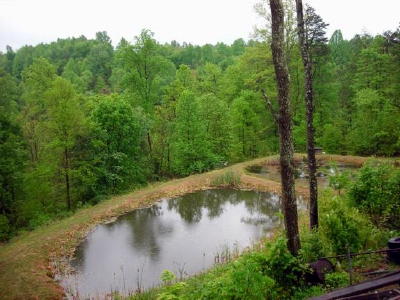 On my back porch windsocks fly and humming birds zoom in to check if their feeders are up and flowing yet. I enjoy the high hill view of the farm ponds below. Birds are flittering around their nesting areas. Neighborhood cats crouch as they wait to pounce a field mouse or other prey (birds). Wild flowers are blooming and blowing in the wind. An occasional visit from a crane, wild turkey, deer or other wildlife depending on the season at hand, is a special afternoon delight.
Cattails are multiplying and serve as look out posts for the birds, waving in the breeze.
My patient eye is often rewarded with the splash of fish as they scurry about. I once watched a large bird (can't recall the name) scoop up its dinner right out of the water.
As early mornings break forth the singsong of birds fill my private theater. In the cool evenings the orchestra of frog life strikes up.
I am also balcony scaping as I plan where to place our alternative garden that we have begun. 2-liter bottles hang upside down with tomato plants growing "down" from the bottle neck. I will be placing lettuce and herb seeds in the open top soil of these innovative containers. I might even experiment with cucumbers using this same method.
Even though my socializing and stories from around the neighborhood have been rather limited these days with a window or balcony view only or an occasional visitor, there is evidence that the heart of Nobe is bustling.
I am entertained by neighbors' horses and dogs, walkers, bikes, the sound of children playing, 4-wheelers, lawn mowers, weed eaters and farm tractors chugging (whizzing) by as the local mini-farmers travel past on their way to plow gardens for neighbors.
Talk I hear from community churches include the present revival at Five Forks and the upcoming mother-daughter dinner at Chapel on Friday evening with ladies showcasing their hats and slippers, especially decorated with emphasize on motherhood.
Nobe Ridge. The place to be!
For now, that's where the heart is.