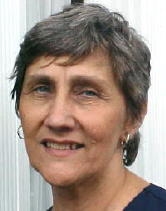 By Ann Richards

After spending the winter in "high lands" of West Virginia, in Preston County, I arrived back in Calhoun County to what I thought would be a quiet summer living alone. Ha!

There hasn't been any rest. I found myself being the family transporter, grass cutter, cook, dishwasher, spring cleaner, and attending to all the necessary things (and some unnecessary things).

Most of this resulted in that plans were laid out for me by family members before my arrival. Too late to establish boundaries! The other reason for my being designated for all the above responsibilities is that my "right arm man", fell and landed in the hospital with a badly broken ankle. Seeing that she will be unable to do any of the chores around here, the whole list fell to me.

Oh well. I have to remember the children of Israel never made it out of the wilderness because all they did was complain, complain, complain.

Honestly, life is not boring here.

But there is one boring problem. Bumblebees. As the weather grew warmer, I began noticing an annoying sound around my front porch. After a few days of this, I began to observe. It wasn't difficult. Coming home from anywhere I was met with hostile confrontation. Hanging in the air at the entrance of my porch were three or four buzzing bumblebees daring me to enter.

Cold chills ran all over me. Fear!

I ran back to the car. I stood there.

How am I going to get in the house?

Getting control of my mind, I decided to make a run for it. Ducking under the little buggers, I got onto the porch as they made a few dives at me.

Inside, I asked myself, What's the matter with you? This is your house. Are you going to allow little problems like that ruin it for you.

I ventured back outside the door and looked closer. There were more of them, going in and out the little holes they had bored into all the two by fours in the roof of the porch. Several were hanging in the air, standing one another off and some of them were making dives at one another.

I picked up my broom and swung at the closest bumblebee. It made a quick dodge of the broom and was gone, but only a few feet. I swung again. Another dodge.

Enough of this! Out came the only can of bug spray I could find. For flying insects ... the instructions said.

Ha! The bumblebee laughed at me. Do you think that will work? The broom didn't work! What makes you thing that will work?

This is my house, I shouted. I'm not leaving, you are!

That's what you think! Bumblebee retorted, zooming off somewhere in the yard.

The porch was covered with sawdust. I put the broom to better use and swept it out.

Retreating, I gave up for that day.

Two more days like this went by and then I declared war. That's it, I exclaimed to them, you're out of here!

Being pretty sure of their buzz being worse than their bite, I dragged out my step ladder and set it up on the porch in order to reach the two by fours. With my bug spray in hand, I warily climbed the ladder.

What do you think you are doing? They all buzzed at me.

Watch and see, I told them.

With the can of spray I began spraying the holes they had bored. There! Outsmarted you, you little buggers.

There was much buzzing going on for awhile as they went around and around trying to enter the holes and I could hear more buzzing from the trapped bees inside the holes.

With much satisfaction, I thought, That will take care of the problem.

In a few minutes, there were no bumblebees to be seen.

The next day they were back, going about business as usual.

What is this? I yelled.

I picked up the broom again and went to war. Wham, got one of them. It lay stunned on the grass a few feet away. I soon finished him off with a shoe sole.

Murderer, his cohort screamed at me.

You're next, I told it, swinging and missing.

The neighbors will think you're crazy, out here in the yard acting like a windmill! Murderer! Don't you know you are threatening to destroy the environment by destroying us? We help pollinate plants. You are the worst of the worst.

Ahhhhhhh, shut up, I shouted. The neighbors already know I'm unsteady. Anyway, I'm demonstrating to them how to fight this war and win.

The fear was gone, replaced by anger. I didn't care about anything except ridding my porch of boring bumblebees before they ruined it. I swung the broom and sprayed the spray until the spray was gone and my arms ached, oblivious to any neighbors who might be watching. When it was all said and done, there were less live bumblebees on my porch.

Now, I have one or two left, and not being afraid anymore, but staking my claim on my own property. I'll get then before this summer is over. I am quite satisfied.