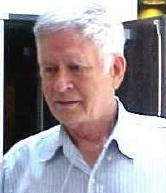 By Jack Cawthon
Barbecuerun@aol.com

The three most overrated subjects, as I see them, in this country are Starbucks coffee, sports, and sex, although some people, most notably men, may be inclined to lump the last two categories into one.

First, Starbucks coffee. I have tried it, and I can see no reason to pay two dollars for a lousy cup of coffee that tastes like burnt rubber when I can buy a lousy cup of coffee at McDonald's, with an old folks' discount, at a fraction of the cost and avoid the burnt rubber flavor. At least I could, until McDonald's improved its blend, and, of course raised the price, but it's still great being an old folk for the discount, although now it is given to me without my asking, one of the curses of white hair.

Starbucks has become a yuppie symbol, and is considered gourmet. (I pronounce it the may it is spelled!) This cohort wouldn't know good coffee if it were brewed by Aunt Jemima herself. They dilute the brew with foreign substances—maybe that's why it has a foreign label—such as milk, and who knows what else, and call the stuff frappies and latties, and other foreign names that we never heard in Gilmer County when I was growing up.

I have been a coffee drinker ever since I was weaned from breast feeding at the age of seven or eight. It was coffee made with old fashioned percolators over an open flame burner and none of the sissy stuff produced today by plug and drip.

There was a taste competition featured on TV not long ago. The panel was blindfolded and given six different brands. Of course, Starbucks came in first; no doubt the burnt rubber gave it away. Poor old Folgers, the only one I recognized among the others, and America's best-selling brand, came in last. The representative from Folgers wouldn't take the taste test, claiming a cold, and who could blame him. "Yeah, that Starbucks has aroma," he might have said, and then been banned from his office coffee club forever. OK, since I have milked that subject enough, on to sports. I am convinced that aspiring sports writers need not have advanced education, but that a good elementary school can provide their complete written vocabulary, which consists, at most, of no more than 150 words.

Master some key words such as "March madness," "backyard brawl," and "Sweet Sixteen." Use them all in one sentence and you might become a sports editor. Throw in "hoopster," "free throw," gridiron challenge," and "out of the park" and you, too, can write sports.

Team names confuse me. Why name a team after a sandwich, such as the "Hoagies"? And weren't the Salugies an ancient race overrun by the Romans? I had once thought that the University of Connecticut, referred to as Uconn, was my team from the cold Yukon, except my team never had a winning streak. You'll never find it, the Yukon Sled Dogs, in the Sweet Sixteen, or even the Sweet Sixteen Hundred. They are short, stocky little guys who have a long reach to the basket, but when they lose you'll never find them blubbering about it.

But I am convinced that sports competition has cut down on spousal abuse, street wars and dog kicking. If only we could persuade the "insurgents" to choose up a team and meet our guys on the open court, much as the old tribes did (note David and Godzilla), then we could schedule the game and the losing team retreat with honor.

So much for sports. Now sex. What can I say about sex? Don't worry, I won't give the Herald an X rating, as I don't know that much to say about it. In my opinion, and I wasn't consulted, the Creator devised a faulty system. He did all right with flowers, as bees handle whatever needs to be done, and you will never see flowers slugging it out or shooting each other as you do with competing humans.

But on the bright side, if there were no sex, there would be no TV or movies, and very few writers on the best seller list. Television seems to have discovered it, although movies may have inspired it. TV shows thrive, like teenagers who have discovered a new vocabulary, on double-meaning jokes and the snickers they convey. All of this provokes laughter from a sound track, which is helpful to someone like me, who wouldn't get the joke otherwise.

I figured out why there was a difference in boys and girls sometime during my senior year in college, one reason I strongly recommend a college education. But I can't recall anything close to those scenes on TV, which may have handicapped me by attending Glenville State, a college which was supposed to include the liberal arts.

Just recently, I saw where the FCC, or some federal agency which deals with decency, which may be an oxymoron in government, was placing a fine on Without a Trace for a segment showing a teenaged orgy. I saw that episode, and I just assumed that it was an innocent sleepover. I later saw a segment where at the end two women passionately kissed on the lips. That was Without a Trace also, leaving me without a clue.

I read where several years ago a candidate for public office proclaimed in his speeches that his opponent had a sister who was a thespian and a brother who was a Homo sapien. He won the election handily.

At least television can prove educating. If only I had received better reception in college!