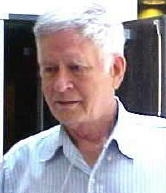 By Jack Cawthon
Barbecuerun@aol.com

On cold, snowy days I enjoy a visit to Arley Cleeter's cabin in Big Puf, where I can always find a warm, welcome fire roaring in his stove. Arley burns books for his heating needs, and he is the only person I know who hasn't complained about the rising fuel costs this winter.

We have some deep discussions on many topics, not all relating to women. Arley is an ex-Pennsylvanian. I have found such folks excellent sources in helping us hill-challenged natives in discovering wonders that lie in the outside world. After all, they do owe us an obligation for establishing a mental facility at their back door—some might say at their backward door—where they can alter their minds, either academically or therapeutically, and then slip quietly back into the shadow of Penn's woods to greater achievements, all on the relatively cheap.

For some unexplained reason, Arley decided to leave this Utopian state and travel into the wilderness, as some might see Big Puf. There is a hint that he left under trying circumstances involving a woman, or, as I have heard others say, his attraction to a noxious weed, both addictions if not taken in moderation. But, whatever the cause, he has become a free thinker in his hill environment.

He often allows me to burn books of my choice. Or he did, until I tossed in a textbook used for teaching journalism ethics. The book almost smothered the fire, and Arley lectured me that I should know better, that such a book would never catch on fire that has been so watered down.

I was eager to hear his assessment of the Dick Cheney affair. I have not been a fan of the vice president over his involvement in the Iraq war, but I felt that he shouldn't have been so maligned over shooting, of all things, a lawyer. Sometimes, I have trouble understanding the American people and the way they view their politicians After Aaron Burr shot Alexander Hamilton, who was aligned with banking interests, he was treated as a hero in parts of the country and may have gone on to greater glory had not Thomas Jefferson sought revenge.

I explained to Arley that I couldn't see much difference in shooting a lawyer or a banker. He only smiled that patronizing smile and said that the banker died and that I should know that lawyers make out fine either way. He will probably write a book, maybe even make a movie, appear on Oprah and Letterman, and, then, if times ever get tough he can pick out some of the bee bees that the doctors left behind and sell them on e-Bay. As usual, Arley makes good sense.

He continued on an even brighter outlook, at least for him. There is always the possibility that the book won't sell, providing more fuel for his fire. It's amazing how a Pennsylvanian can take an instance of national importance, such as a shooting in Texas, and see personal benefits from it. But that may be the reason we hill folks have stayed the backward people that many view us, not seizing opportunities as they occur, except those cherished and sent by Senator Byrd.

Arley often encourages me to write a book. But as he does it, I see a gleam in his eyes that I feel reflects less literary appreciation as it does fireside reflection. And it is here that I have come to understand Arley's dedicated purpose in life. He actually believes that books are more a threat to our survival than global warming. As more and more people express the need to write books, which I believe may be related to a basic sexual instinct, as few are written without graphic detail of the subject, our planet will be laden more and more with castoff books. There are only so many that Arley can burn, and unless he receives disciples to his cause, we will have books whose weight may tip the planet upside down, and then let's hear all the debate about global warming.

With all our concentration on such major problems, we suddenly discovered that the fire had almost gone out. Arley didn't trust me to refuel it after my last disaster. Instead, he picked up an Oprah book club selection and tossed it in. This was a copy of the book written as non-fiction which turned out to be anything but. After first defending her choice, Oprah, taking a lesson from crafty politicians, turned on the author and soundly berated him on the air, which should have ensured further publicity and greater sales. I'm not certain how Arley got his copies. Maybe from Oprah herself.

Arley has long maintained that I should be honest with my readers, and he used the tarnished author as an example. So, I might as well get it over with. Some of the reports that I write about Big Puf are not all true. That lifts a load off my mind, and I hope that you will not forsake me over that one small principle, as I have always found the truth in writing to be rather dull, which is why I find that journalism can be an excellent training ground for creative writers, especially for those who write editorials.

A visit to Arley is always good for the soul and a lift to the spirits, not to say a warming encounter. As we all wait the end to be provided by global warming, I will feel no guilt as what I write will not contribute to our plight. All my stuff disappears into the darkness of cyberspace, which I think may be related to what the Good Book calls the Bottomless Pit.