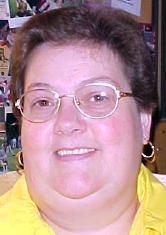 By Linda Flowers

I remember well my first encounter with Smarties. Up until that time I'd never eaten sour candy. Actually, I'd never eaten much candy at all.

I was three or four years old. Wanda, AKA Aunt Sissy, worked at Cutlip's Department Store in Webster Springs. I was Wanda's "mini me". She and I had forged an uncommon bond when she was the ripe old age of fourteen and I was the ripe old age of brand new to the world. She was, is, has always been, my heroine. My role model.

Wanda brought Smarties home from work and that night, gave me my first roll. I was entranced by the pretty pastel colors of the pills and the fruity, tart taste. I tried to wheedle more Smarties right away. I was hooked, man!

Wanda assured me that if I was good, (I was always good), I could have a roll every night at bedtime. So, you see, it's Wanda's fault that I'm addicted to sour candy. There are worse addictions. For instance, chocolate. I don't much care for chocolate, which is fattening. Sour candy is non-fattening.

Other popular Wanda memories include her taking me for walks when I was little and letting me drive her brand new 1974 Pontiac Firebird. Those were the days! Ah, I was s-o-o-o cool crusing with the windows down and Andy Kim crooning at us from the eight track player. I'd look for people from school and honk the horn until they noticed me and waved. "Yeah, me and my sister was crusing yesterday in the 'Bird,' Yeah, yeah ain't it cool?"

For years Wanda gave me all my hair cuts. She could do the best shag cuts. She always said it was easy, that a shag was nothing but a bad haircut. When I was little she would make popcorn and fashion a special container for mine out of newspaper. She made the best peanut butter cookies and taught me that fudge was hard to make on a rainy day. Wanda was my confidant through those terrible teen years. She actually understood me!

Since I've grown up I've learned her secrets. The walks when I was little was to wear me out so I'd sleep good. I slept with her until she got married and left home. The driving lessons were because she feared that if it was left up to Mom, I'd never learn to drive (quite prophetic). Andy Kim was definitely a cool factor. The haircuts were to help me be cool at school. The newspaper popcorn containers were to save on dishwashing, fudge really doesn't turn out good on a rainy day and she still actually understands me and knows me better than anyone does.

We've reverted to our youth in our twilight years. We spend our vacations together at Dollywood. We're there when the park opens and ride every ride at least twice. We run, laugh, play and eat Smarties.

Our favorite place in the world is Dollywood. There, we're free of stress, worry and all those adult concerns that plague our everyday lives. The years have been magical and especially good to Wanda. She was fourteen when I was born forty-five years ago and is nineteen now. Magic, pure magic! Salute to my sissy, Aunt Wanda!

Hello to all my relatives, friends and readers in Calhoun County and everywhere else. I apologize for not writing for awhile. I got sick shortly after Christmas and was hospitalized with a small bowel obstruction. I've been struggling to get back on my feet and return to good health while still trying to work twelve hour shifts at the hospital.

I've finished my first assignment here in Kingman and signed on for a second one that will start January 24th. In the Spring, hubby and I plan to return back east so that we can be a little closer to family. Hi Mom! Love you bunches! Watch for another Rhubarb Rambling soon.