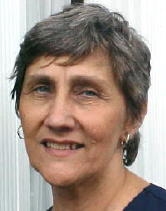 By Ann Richards

Only a dim outline of the mountain tops could be seen at 6:30 this morning. The trees in the valley framed them. Rain was falling. Dusk to dawn lights twinkled between the swaying trees.

Slowly, daylight brought focus, fog drifted over the mountains, then leaving, gave way to this new day.

Quietly, the rain turned to soft snow and the mountains disappeared as everything turned white. This snowfall is a gift of indescribable beauty.

It's Saturday. Nobody is going to work, chasing the mammon god. There's no school bus to gather children. There's no hurry anywhere.

The car sitting beside the cabin below has been there since yesterday morning, having arrived sometime during the night. There has been no movement down there. Someone is in retreat from the world and it's noise.

Everything has come to a halt to watch this day fold us in a snow blanket. This family has settled in for the weekend. The cats are sleeping or stirring around in the kitchen. The dogs think it's too cold outside and have begged a place beside the wood stove. The beavers are in their lodges where they have labored to build their dam during the summer. And the neighbor is in his cabin, shades drawn, porch light still on, showing no sign of planning to come out. I wonder if he sees this lovely snow.