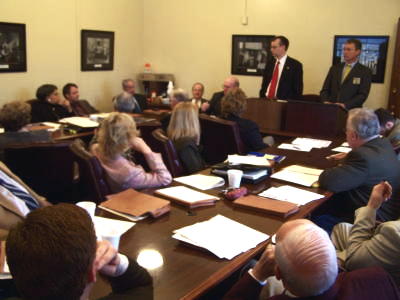 Education Chairman Tom Campbell calls for vote on allowing voters to decide on consolidation matters for elementary and middle schools
By Bob Weaver OPINION AND COMMENT
With the WV Board of Education rolling full force with school consolidation, causing bus rides up to one and one-half hours each way for some students, there could be some relief in sight.
Yesterday, the 25-member House of Delegates Education Committee, approved a bill which will go directly to floor vote, allowing citizens of a county to actually vote on consolidation proposals.
If passed by the legislature, citizens will have a say on the matter related to elementary and middle schools only. The state is proposing to close about 150 such community schools.
Larry Williams (D-Preston), vice-chair of the committee, said "This measure gives some balance to the problem," with many WV schools being consolidated.
Williams said his constituents are "worn out" with the power executed by state education officials.
Education chair Tom Campbell (D-Greenbriar), called for a vote on the issue yesterday morning after two days of discussion. Only one or two members of the 25-member committee voted "nay" and eleven members immediately signed on to sponsor the bill.
Linda Martin of Challenge WV, an advocacy group which supports keeping community schools, said "I'm grateful for the cooperation over this measure. The state has arrogantly rolled-over local school boards and parents."
Howard O'Cull, executive director of the West Virginia School Boards Association, spoke against allowing the voters to decide, saying "It just adds another layer to the issue," and could cause fiscal problems for school boards.
Martin said "It is an attempt to return some authority to the people."
O'Cull, speaking to Challenge WV last fall, said the legislature over a period of time has removed much of the constitutional power from local school boards, passing it to Charleston.
Martin told the committee Monday all the research says kids in small schools do better.
"It's hard to imagine the impact long bus rides have on their education. The state just keeps releasing fuzzy numbers about how many kids are affected," she said.
Thomas Ramey, a Challenge WV Fellow, said "This could bring some hope to parents and voters who are fed up with the state's high-handed authority. Something needs to protect kids and reflect the will of parents, even though it's a little late for many communities."
Gov. Joe Manchin has been critical of the actions of the State School Building Authority, the group recently granted themselves an extra pay-raise.
Mingo County school board president Bill Duty, said "It's been a bloody hammer," after his county was being forced to close three high schools."
ED-WATCH: FOLLOW THE BUCKS IN MINGO CONSOLIDATION BATTLE - A Non-Stop Freight Train