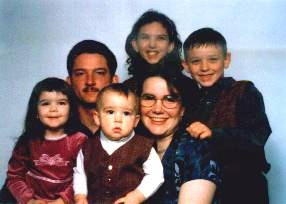 The Stewart Family
By Suzanne Mazer Stewart
MSZFROGGIE@aol.com
I had hoped to usher in the new year with a new column all about Christmas and kids and a TV star for a husband, but the recent, possibly avoidable, mine tragedy in Upshur County has led me to believe that original piece inappropriate at this time.
Serious times call for sobriety and soul-searching, I suppose. I don't guess this really qualifies as a "column" and to my readers expecting such, I offer an apology. However, the following does come from the writer's heart.
Hope Deferred
Consol #9 in 1968,
Monongah's #6 and 8,
Katherine #4 and Loveridge 22,
just to name a few
Good West Virginian's, men brave and bold,
Buried before a funeral in those coffins of coal.
Now Sago adds 12 more to the list
Yes, hope deferred makes the heart grow sick
Sick of living with a fear that doesn't wain,
Wondering when it will happen again.
Wondering why good men have to die
In holes so deep they have to pipe in the sky
Hoping for a better way to live
Hoping no more lives to give.
"It's lumber or coal," the TV news reporter said
"They're the only two ways around here to get ahead"
Why do men still die in the dark underground?
Is that the only place where a future can be found?
It seems to me there's got to be a better way
Let's hope tomorrow will bring a better, brighter day
For now let's remember, let's pause, let's pray
For the twelve men who won't be coming home today