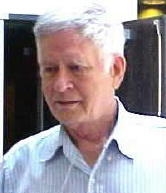 By Jack Cawthon
Barbecuerun@aol.com

As each new years rolls around, I look back at all of my failures in life. (Some people look ahead, but they are optimists. I consider myself an optimystic.) I console myself by rationalizing that most progressive thinkers were men, and a few women, who were ahead of their time. I take solace in my belief that some day I will be recognized as one who has made this state the envy of all, without the usual reliance on jocks of all trade.

You may remember my efforts to bring back public hangings. This would not serve so much as a method to deter crime, but as a revenue producer equal to none. We have the awesome New River Gorge Bridge, now featured on coin of the realm. Each year it serves only one day as a jumping off point for those thrill seekers who look death in the face, only, they trust, to be reborn renewed in the baptismal waters of the New River.

Public hangings have always brought out a spirit of adventure for the populace, except, perhaps, for the honored swinger. There is something invigorating in seeing a fellow human being swing at the end of a rope, as sanctioned by the state, of course.

I have attempted to harness that spirit of uplift to the down drop from the New River Bridge. Instead of one Bridge Day a year, numerous days of festivities could be swung throughout the year. We don't even need to reinstall capital punishment in this state, as we could serve only as the subcontractor for other states, such as Texas, which has more than its share of disposable candidates, including politicians.

While vendors and souvenir sellers would bring in a tidy sum of their own, it would be a pittance to what the state might reap by a lottery. Using a lottery system, the lucky winners would be chosen to spring the traps. Such a system would be far from inhumane, as it would allow the swingee a glimpse of heaven, however brief, of the wonder of the New River canyon, perhaps the only view of heaven he would ever get for all eternity.

This exhibition could also serve to produce the ideal reality TV show. Can you think of better entertainment, keeping people glued to their sets? Instead of showing people eating worms, covered in crawling snakes, or yelling crude remarks at each other, there could be a sense of spiritual fulfillment in watching a public execution.

The millions of dollars in revenue produced by my project could be distributed throughout the legislature for budget digest projects. Each delegate could establish a college in his or her district as only Harold Michael so far has been able to do in his. There could even be openly financed projects conducted in regular sessions, instead of waiting until the midnight ending session to sneak them through undetected.

Ah, well I am dreaming again. I am far too far ahead of my time! I have even failed in having established a one-day season each year when landowners could harvest a hunter, long a labored effort of mine. So far, the DNR has ignored my pleas for added revenue from a special stamp. Some folks say that the DNR alphabet for stamps has been used up, while others claim that the agency fears that too many does, or female hunters, will be harvested, thereby curbing the breeding stock for future license sales.

There is, however, one project that I believe will be instituted during my lifetime. It is one promoting health benefits for the state's residents, and that is the making of West Virginia a smoke free tobacco state. All smoking would be banned in all counties, except for a select few such as McDowell, Boone, Mingo in the southern coal fields.

Should someone, say, in Monongalia County, wish to light up, he or she would be provided public transportation to one of the designated counties. The cigarette smoke would be relatively benign to the residents of those counties as they have developed immunity of sorts to harmful smoke from coal producers, such as that coming from gob piles, poorly ventilated mines and the ever-present tipple dust.

To add strength to my proposal, I have received a clipping sent to me by Bill Jackline, a former psychologist in the Monongalia County school system. Bill now lives in Spokane, Washington, and that state has recently imposed a tough new clean air act. A columnist for the Spokane-Review wrote about a bar owner's attempt to correct some of the harmful effects of this act on his business. He has installed a "smoking bus" in the town of Ritzville, 60 miles from Spokane and has parked it on main street beside the health department.

The yellow school bus allows smokers to smoke their hearts out in seclusion of the bus as they aren't allowed to light up in public places that serve refreshments such as bars, where people are now having a tendency to drink and run, instead of the double pleasure of drinking and smoking, which I guess makes it harder to drink, smoke and run anywhere.

The health department officials say the bus is probably illegal, but they have bigger nuts to crack, and seem to be just coughing it off. If the folks of Spokane are willing to travel 60 miles to a smoking bus, my proposal of round trip transportation to southern West Virginia gains merit.

In addition to keeping me informed about what goes on in Washington State, Bill Jackline has declared himself Ramp King of that state. He has been spreading the gospel of the ramp to the heathens of that area for years, and, knowing of the addictive qualities of the ramp myself, I would guess that he had a following that might equal the Moonies or the Hare Krishnas combined. I certainly wish him luck as he has named me National Columnist for the Hur Herald, and when a king speaks people listen, as it means more than mere financial advice, you had better believe.