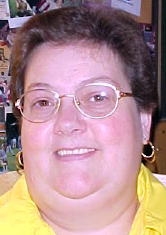 By Linda Flowers

When I left for Arizona, I left my daughter, Meagan, in charge of caring for mine and Dave's "children", our pets. There's our wire haired terrorist, er, terrier, Tina Louise and four cats; Esmyrelda, Gracie Allen, Bertram and Ernesto. Meagan loves animals as much as we do so we knew our precious angels were in good hands.

We hadn't been gone long when we began to receive disturbing letters. The first was dated October 15th and was from Tina, written in a strange hand. The letter follows in it's entirety, conveyed to you precisely as it was written to us.

"Dear Momy and Dady,

Hi! I just waked up from my nap. Sissy (Meagan) says I have 'bed hed'. She laffed at me. She is very meen to me. She don't give me no people food and she don't let me eat as many meet treats as I want. She says I gots to eat pupy chow. And when I talk to you Momy, she won't let you outta that white box. Sissy likes the Kats better than me. She's nice to them and meen to me. She's so meen to me that I losed a toof. (The tooth was mailed to us, we have it in our possession.) Her and the Kats pick on me. I miss you and love you Momy and Dady. Teeny-Neeny Noodle Bop."

Immediately upon receipt of this disturbing missive I phoned home to chastise Meagan for abusing my poor baby. She of course denied all allegations. I assured her that I had hired the nation's best private investigator to acquire the facts. If indeed, poor Tina was being abused, heads would roll. Upon receiving the following letter, dated November 4th, I called my man off the case. Justice had been served.

Observe...

"Dear Parents; Help! The 'children' have taken over. I am allowed to exist only if I bow to their will. Fear dictates my every action. I dare not attempt a coup, for I hear the Red Cross is really low on blood. Also, I fear for my safety as I sleep as well. They surround me in my bed, as if daring me to move or otherwise disobey. I am allowed to leave the house only when they permit. Each day, they become smarter, more challenging. They force themselves upon me and make me scratch their ears. They order me to flush the commode so they can watch the swirlys. At times, I am not allowed access to the computer, they climb onto the desk and commandeer it. Then they proceed to chat with my friends. Also, I suspect they know the password for my e-mail. They glare at me knowingly. I am not sure if I will be able to even get his letter to you, but I will try. If you receive it, do not attempt to reply. That would only endanger you as well. I must go now, they demand to be let in.

Love, Meag

So, you see, don't mess with the Flowers gang on the Mellott farm. Your very life could be in danger.

Hello to all our friends and relatives in beautiful Calhoun County, West Virginia! A special hello to my cousin, Melva Stull. Yes Melva, I am very blessed to be traveling the nation. Hi Mom! I love you and will soon have the book I wrote about you printed, ready for folks to enjoy. I plan to present the book somewhere around the new year. May the Lord richly bless you each and everyone. Keep on praying! Love Linda.