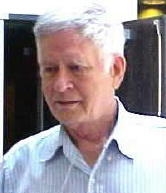 By Jack Cawthon
Barbecuerun@aol.com

Readers of an October 13 story in the Herald that included a picture of a "snakehead" may have wondered if this was a fish or a fish with a tail tale. I have some details I might add.

As those of you who follow my wanderings with wonder here, bless you for your endurance, know the Orange Roughage Catfish of Big Puf Crick is an endangered species that requires massive pollution to survive. (Massive in no way is meant to reflect on Massey Coal except possibly as a compliment in this instance.) However, the Orange Roughage is not confined to water. It can travel across land, and although Big Puf Mountain has served as a barrier in the past, it is not inconceivable that the Orange Roughage can overcome its terrain.

Alas, we may have a plague upon our treasured environmental resources, including those that require pollution.

My theory is that the "snakehead" has resulted from a mating of the Orange Roughage with some hideous creature of unknown evolution. As to its lust of the flesh, I shall not discuss here, as I was raised a strict Methodist and had ingrained in me that if such transgressions happen they should be hidden by darkness. Television has now made that taboo rather mute with klieg lights removing the darkness and exposing graphic depictions.

However it happened, there is now a threat to all of us on top of the bird flu and Medicare cares. Recent headlines proclaimed "Mon River Contaminated." There have been warnings issued not to eat the fish in state streams. Would you consider eating a "snakehead"? And certainly not the lovable enduring Orange Roughage even if lack of decency, coupled with hunger, imperiled its fate, as PETA would certainly prevail in court action.

Don't expect our government to provide the truth of this impending calamity, as we still can't learn the truth about flying saucers, Area 51, or the little alien humanoids strewn all over the landscape at Roswell.

But you can depend on this writer to continue an investigation into the mutations at Big Puf, including the Orange Roughage as well as the people.

And speaking of the people of Big Puf, I owe them a debt of gratitude. When my column seeking financial support for the Herald was read by them, and to them, they came through with flying colors, although some would condemn their actions with the Confederate flag.

Homer Bob Pratlow, the illiterate writer who has kept himself pure so as to avoid contamination by those who do soil the sheets, has my column read to him by Burvil, a kid who will be left behind even if George Double Bush himself grabs him by the hand and drags him through the classroom. Homer Bob has declared that my writings will never lead him astray as they pass swiftly by him faster than "salts through a bloated hog." He, nevertheless, placed a jar on the bar at the Over Easy and collected $2.98. It was the thought that counted (about the money, not the hog and salts).

Even Arley Cleeter, who needs all his books for cold winter heat, set up a used book sale. Books are not great sellers in Big Puf, but Arley sold them on the basis of heat output as an alternative to higher fuel prices. He moved several cords this way and the money all went to the Herald treasury.

The Holy Rattlers even pledged money from their recent dinner, at which the Surprise Sandwich is always a great bite. They are raising money to replace exhausted serpents, but some skeptics maintain that the exhausted ones are all too much into the fund raisers, but who are we to dismiss the bite of the hand that feeds us?

Bobby Gene Bubba, Big Puf's delegate, will try to channel funds from the notorious Budget Digest, even if the Herald isn't, thankfully, in his district. He says that I have put Big Puf on the map and that the Tri-Holler region owes me gratitude, but I'm certain the Herald would rather have money.

A recent statement by the editors of the Herald—I use plural as other publications do, so as to provide better protection in numbers—declare that it is good for another year. With support from such sources as Big Puf, where poverty is known on the first name basis of Welfare, the usefulness of a news source uninhibited by advertisers or imposed fees of any sort, will continue to report news as it happens and expose corruption wherever it occurs. Now, if only more people had computers…

Keep a sharp lookout whenever you are around streams for signs of unnatural life. Here in Morgantown, that is difficult as we have so much unnatural life that is naturally occurring. But in the purer regions of the state you may alert authorities of any mutant activity, although this may parallel reports of flying saucers and alienate you to those in control.

In the meantime, don't eat the fish and don't drink the water, which presents a problem for my Methodist upbringing once again. What to drink? To compound the problem, I have had readers tell me that after reading the stuff I write they need a drink.