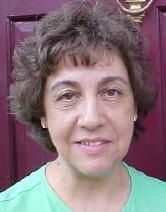 By Alice Hickman

"MEOW, MEOW" is what the girls at Calhoun Public Library heard as they went outside to investigate the small yellow and white cat that was frantically pleading for attention at the front entrance.

They wondered, "what will we do with this kitten" as they rescued it from it's immediate traumatic situation.

"Shall we keep it and declare it the library mascot?" "Would that be allowed?" "If so, what will we name it?"

After much deliberation about adoption, with suggested names such as "Overdue" or "Bookmark", they dialed 1-800-helpmom ...

"Hello!"

"Hi mom", the voice said. "We have a little problem down here in Grantsville. There was this small kitten dropped off at our front door. We have fed it, watered it and provided a bathroom break, but now we are getting desperate and do you know what else? It has thumbs! It is so cute and it has perfect white markings under it's neck and the paws. You wouldn't want a kitten, would you", she pleadingly asked?

"Ugh - - I don't think so", I replied. "You know how your dad feels about cats".

To make this story short, we are now guardians of a "polydactyl" kitten, sometimes called a "Hemingway" cat or a "mitten" cat.

Of course this demanded a trip to Wal Mart for all the accessories including kitty box, litter, food and tray, collar, flea powder, pet taxi and of course we can't forget the toys.

Mr. Lucky became the name of our new family addition. Bronson said that he was "lucky" that he was still alive after two days of trying to potty train with not much success.

Things are now looking better and smelling better. This will probably be the world's fastest trained cat. And maybe it will be worth it when we need a little entertainment and at the needed moment, here comes Mr. Lucky scooting across the floor with his front paws and thumbs spread so wide he looks like a 747 that just landed.

So Mr. Lucky has a new home. I think!

Library duties for Amy, Lisa and Kathy have now expanded to include "adoption agency services" ... And they are really, really good at their new assignment.

We may keep Mr. Lucky for a few weeks and use him for a "bookmark" or if we want to return him, we've been assured there will be no "overdue" charges applied.

Bronson especially liked the guarantee that said, "If not completely satisfied you may return with no questions asked".

And that is where the heart is!