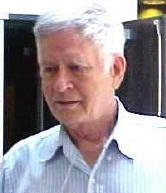 By Jack Cawthon
Barbecuerun@aol.com

Scientists are continually exploring the brain, finding all sorts of strange processes and connections that cause us to think and behave in our own peculiar, speaking personally, ways. So far, I have found no study on one region, please allow the singular thought, of my own brain that appears to be lacking.

I seem to have been born with no nodule, bump, or neurons related to sports knowledge. It is zip, nada, zero, empty.

For years, if you have followed my whining, I have blamed my sports challenge on the coach who wouldn't let me play, and the cheerleaders who wouldn't either. Now, I'm not so sure the coach deserves the blame, although I still harbor some small resentment against the cheerleaders, but now that most of them are grandmothers I'm content to let well enough alone.

This lack of mental capacity has always challenged me wherever men gather to discuss the two main subjects that men always discuss with other men: women and sports, although some women, notably feminists, may view the two as one subject.

Because of my challenges, I remain silent when discussions become mandatory, open forums. In fact, my silence often has been viewed by those who are unfamiliar with my condition, as deafness, and on numerous occasions men have taken to the use of sign language to explain the proceedings.

Most men use a universal signing to accompany their speaking of women, and I have been fairly able to follow the discussions in this manner, similar to knowing how to read a foreign language but not knowing how to speak it.

But when it comes to sports discussions no amount of signing can cut through to the brain vacancy.

I decided some time back to overcome this sports handicap. I know that the human spirit can conquer over the most difficult obstacles, and I felt that by hard work and concentration I could also overcome.

I had been hearing over and over about the mighty sports achievements of Yukon, which I assumed to be a university in the frozen wasteland of the Arctic. A powerful team in the frozen Northland, coupled with my appreciation of the poetry of Robert Service, whose Arctic nights had seen strange sights with the cremation of Sam McGee, would certainly be well worth my efforts.

I could picture Eskimos, which is not now the politically correct term for all those natives of the far North, but one that when I was in school was applied to everyone north of 54-40, frolicking around in the snow and ice in their furry outfits playing all sorts of sports and loving every minute of it.

I could understand how Yukon might became a force in basketball, even with little four-foot centers, as the perpetual Arctic darkness might inspire staying inside the gym and tossing hoop balls, but I couldn't understand how they could achieve in football with the howling winds and blowing snow and ice covering their practice fields.

Nevertheless, when we men would gather, sometimes in places that would be frowned upon by wives and people of moral virtue, I was no longer silent, but began to rave about the exploits of my Yukon team. At first, I was greeted by smiles, the sort that one might see when people read the stuff I write, and I had the distinct impression that the group thought I was putting them on.

But the more I spoke about the mighty Yukon teams the more the smiles were replaced by looks identified with your favorite uncle's sudden blathering and which implied only a matter of time until the dreaded "N" word appeared before "home."

Then, one day it happened. When I had exhausted my raves about the Yukon, one man, perhaps more sensitive than the others, if you women will allow a remote speculation, began to explain that what I had thought a team from the far North was only as far north as Connecticut, and what is spoken phonetically as "Yukon" is really Uconn, meaning the University of Connecticut.

I must have looked as if I were the one put upon, thinking it all a joke of my male colleagues to test my sports knowledge. But I began to see the seriousness in their faces, and I knew that once again I had made a fool of myself, much like I feel when I sometimes reread the stuff I have written.

But I wasn't going down in total defeat. Just as it seemed the worst had happened, I blurted out, "How about them jocks of Wofford?" I saw only bewilderment in their eyes. And I knew that I had a winner, a team no one else followed and one that I could have only to myself.

Much like the wisdom of wise presidents of yore who chose only to go to war against countries that we could whip in a few days, such as the Dominican Republic and Panama, a wise coach at a leading university in the northern part of West Virginia seized upon the same winning formula. Who can say that someday Wofford will not stand as one of his greatest days in famy? I can, and do. And, so far, no one has disputed me. I might have failed in the Yukon, but mighty Wofford may someday emerge from the agony of defeat and overcome along with me. Now, if I could only determine where that other team is located….