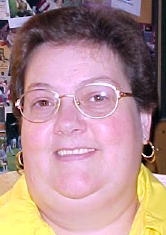 By Linda Flowers

A few weeks ago my sister, Loretta Moore of Covington, Virginia paid us a visit. A visiting sister is a treat and we always have a good time.

One thing I've noticed is we tend to revert to our "kid days". Loretta arrived on Friday and that night we played beauty shop. My other sister, Wanda and her daughter, Angella and Angella's son, Chad were also camped around the kitchen table, er, beauty shop. Mom and my daughter, Meagan, wandered through occasionally, frequently offering advice.

Distressed by the increasing number of gray hairs in my normally shiny auburn tresses, I'd purchased a Frost and Glo kit with intentions of transforming myself into the golden goddess in the picture on the box. I am -- years old, well, pretty old, and I still fall for advertising schemes. I look at pictures in catalogs and fully believe that if I purchase THAT outfit I'll be as beautiful as the young, voluptuous model smiling at me from the page.

Please let me warn you that this is a trick. I NEVER look that skinny, young or pretty. But, I digress. I asked Loretta to apply this Frost and Glo beauty trick to my hair and make me beautiful. After the rude laughter subsided she proceeded to do just that.

For those of you who have never tried having your hair frosted, this is a painful and humiliating experience. First, a tight fitting plastic cap with circles resembling bullseye targets is applied to your head and tied under you chin. You immediately can't hear. To make matters worse, without my bifocals I also couldn't see. Then, using a sharp, cruel hook, the hair is pulled tormentingly slow and painfully through each tiny bullseye, all over your head until you resemble a deranged porcupine.

At this point in the procedure I had family members scrambling for cameras and video tapes. I believe I may have successfully destroyed all the film.

A foul smelling concoction that strongly resembles ammonia and laundry detergent is then applied to the hair sticking through the holes and the head is wrapped in plastic. The procedure is timed. More for lighter hair, less for darker hair. We may not have timed mine right. I don't look a thing like that model on the box. I just look like me with auburn, blond and gray hair.

Chad helpfully pointed out that I now have three colors in my hair and may well have started a new hair color trend. To punish him for his impertinence, we threw him in the chair, held him down and bleached his hair. Actually, he wanted his hair bleached but the attack by several women is the story he told his very horrified dad.

Now, both Chad and I have dark roots. No problem for Chad. He said, "I'll just get peeled." I'm stuck. Do I go auburn, blond again or let the gray take over? This worked a lot better when I was a bleached blond in high school. I was young and skinny then. Also, I've come to realize that there's nothing sadder than a bunch of middle aged women playing beauty shop.

May God richly bless you all. Linda.