Dear Editor,

I'll admit it was a bit of an experiment. We have hosted the Always Free Peace and Music Jamfest for the past 10 years now, keeping the overall theme as "Rainbow-like" as possible, meaning that there is no charge for camping, food, or music, everyone is encouraged to participate, and leave any hostilities at the gate.

This has always been a challenge due to the fact that many local folks idea of a party is to drink and raise cain as much as possible without contributing much. But this year, we attended the National Rainbow Gathering in the Cranberry Glades for a week, and invited some kind folks to our farm who really understood how the thing is supposed to work.

The next thing we knew, we had what resembled a regional Rainbow Gathering on the farm! For over two weeks the entire farm was scattered with colorful, talented, intelligent, and loving people from all over the United States and even Canada, camped in tents and old school busses.

The Pink Elephant kitchen crew showed up and helped to keep everyone fed with generous donations of food provided by friends, neighbors, and even a church. Teatime kitchen kept a delicious assortment of tea flowing.

There was a licensed massage therapist giving free massage to anyone who wanted one.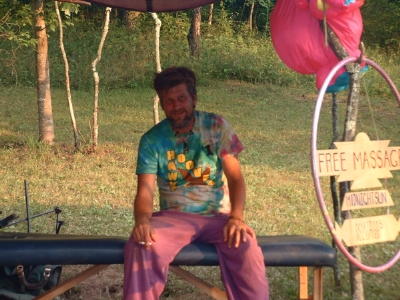 Midnight Sun, the massage guy
Rainbows were in charge of the parking, peacekeeping, and did an extraordinary job of cleanup. Even cigarette butts, and small bits of trash disappeared from the ground. In an environment that included more wild and crazy locals than ever before, we seriously could not have done it without them.
On Thursday evening, friends organized a beautiful ceremony of protection and renewal, followed by drumming and celebration. A traditional Native American sweat lodge was constructed and enjoyed by many.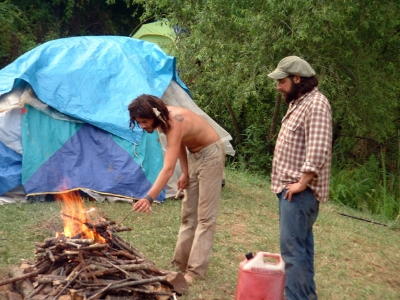 Getting ready to fire up the sweat lodge
The live entertainment on the weekend was exceptional with both local and out of state bands from as far away as Philadelphia and Washington DC donating their time and talents to the cause, and the many talented Rainbow musicians filling in between bands created a wonderful diversity of music. Smiles and hugs and cries of "Lovin' you!" created a magical atmosphere of joy, normally unseen in the regular day to day world.
Of course, as in any large crowd, there will be problems that arise. But problems within the Rainbow Family were dealt with quickly and efficiently, and the offending persons were removed from the property immediately. Unfortunately, locals caused the greatest disturbances. But in the prevailing atmosphere, even a walk-thru by state trooper Hunt, who was investigating a problem which occurred one night, was all good. His conduct was impeccable, and he was treated with great respect and welcomed by all. He seemed to be quite impressed with the event, the camp, and the organization involved.
And so the Rainbow/Jamfest experiment seems to have been a great success. Many locals found the peaceful atmosphere to be a welcome relief from everyday life. The joy spread out into the community in many directions, some claiming that it changed them somehow for the better. The gathering also brought a considerable amount of much needed money into Calhoun and Roane Counties.
Another great benefit, perhaps a bit less noticeable on the surface, was that there is no room in the Rainbow family for hard drugs, and anyone participating in any of the more common plagues of this area, was shunned and made to feel unwelcome. Perhaps more of this attitude could seriously help a growing epidemic locally.
All in all, this was by far the greatest and most impressive gathering that I have ever experienced anywhere in this area in the 30 something years that I have lived here. Some Rainbows have remained temporarily on the land, helping, regrouping, resting and recycling for traveling money. Some will stay in the area, having fallen in love with West Virginia, and having been here long enough to claim residency.
In all honesty, I feel it would be of great benefit to us all to welcome the Rainbow Family with open arms. With their love, understanding, compassion, and hard work, this area could literally be saved from itself, and renewed.
Patsy Buvoltz