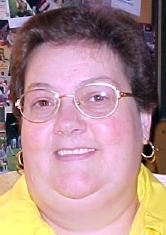 By Linda Flowers

It was decided at the supper table. Time for the young chickens, other wise known as "doodys", to move from the coop to the hen house. We planned our strategy. Well, loosely formulated a plan. Mom, keeper of the farm, gave her silent assent. Round-up would be today.

Meagan, my daughter and our foreman, and I spent the first ten minutes discussing our plan of action. Okay, arguing about how to do it. With a mighty yank, we managed to wreck the doody coop and liberate several birds. No, no, no! They won't just walk to the hen house. We'll have to carry them.

Several heated shouts later, we'd enlisted the aid of my sister, whom we all call Aunt Wanda. Mom supervised from the safety of the back porch. Hubby was fixing the lawn mower and would occasionally cast a curious glance our way. It was evident from media coverage at the scene that we were in a life and death struggle. Mom's encouraging words rang in my ears. "You get my chickens killed and I'll kill you!" Easy now!

Someone produced a fish net. Good idea. These are amazingly effective chicken catching gadgets. Provided, of course, that you don't get snagged on a fence or maybe a relative. After we extricated Aunt Wanda from the net we set about the serious business of rounding up chickens.

Aunt Wanda had cleverly devised a chicken transportation system from a forties era laundry cart on wheels. We were sufficiently armed, a little organized and a whole lot dangerous. Let's go!

As I reached into the coop an impertinent young fowl attacked my person by way of pecking my hand! Ouch! Medic, medic! Why, you...I retaliated by grabbing her by a wing and dragging her out of her lair.

She screamed and I cussed or maybe I screamed and she cussed. Details are a little fuzzy. The birds were onto us and scattered to the four corners of the coop. We regrouped and made a sneak attack.

Aunt Wanda ran at the coop waving the fish net and screeching "yaw, yaw, gitchy, gitchy goo!" This tactic enabled us to easily snatch up a few of the little buggers that had fallen down laughing. We transferred them to the make-shift paddy wagon.

I watched helplessly as Wanda began a hula dance using the net as a prop. Meagan followed suit with a war dance interspersed with expletives. Now, lets' all settle down.

I glanced over at hubby. He silently watched the unfolding events, eyes glazed over, lawn mower temporarily forgotten. Leading by example, I gamely caught chickens as they wandered over to the door. Wanda and Meagan's efforts were not for naught. Soon, we had a storm cloud and a rainbow.

When we had the paddy wagon full, we traversed the short distance from the back yard to the hen house. Once there, we gently placed the chickens on a roost and headed back for more. "Chooka, chooka, chooka!" Wanda swayed at the birds, brandishing the net. We refilled the paddy wagon, repeating the process.

Soon, we only had a few escapees wandering through the weeds along the creek. Meagan began swinging the net like a golf club. Baseball strikes, tennis plays and fishing casts were employed as a means of capture. At one point, the net was used like a fly swatter to catch the most wiley of the birds, Zeke.

The cows watched all this action, chewing and swishing, pausing to sniff each fowl load passing by. No pun intended. Someday, I'll have to tell you about cow catching.