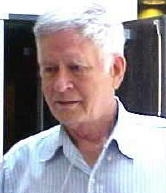 By Jack Cawthon
Barbecuerun@aol.com

For the two or three of you who have expressed concern over my absence here, and the hundreds who have applauded it, an explanation is in order. Simply, I stopped to smell the roses. However, in this instance as there were no roses growing along the denuded banks of desolate Big Puf Crick, I stopped to smell the pollution.

I had been asked by the Allegheny Front, those stalwart guardians of the Big Puf ecosystem, to stand vigil in their behalf while they attended a gathering of the Rainbow Family in the Monongahela National Forest.

I accepted the trust of so great a responsibility with honor. As you may recall, the Orange Roughage Catfish is a species that lives no where else on earth and requires massive amounts of pollution for its survival.

A major source of that pollution, and the one that created the ideal environment, was the acid mine drainage from Lester Archabald's Degenerated Mining Company operations. The orange sludge on the crick bottom created by the turbid waters of mine waste produced an amazing life form of half fish and half land dweller, perhaps throwing the forces of evolution into reverse. (Some might say the natives of Big Puf have done so also, but that will be grist for later discussion.)

When news leaked out, without White House aid, I might add, the world of environmentalists was tipped a kilter. Most certainly life forms of whatever sort must be preserved at all costs, even if a dirty lifestyle is necessary. (We are not discussing the natives at this time, remember?) Hence, the Allegheny Front arrived in force to set up quarters in Big Puf. After years of valiant watch-dogged guarding, Big Puf is polluted more than ever, and the only bellying up happened not to the Orange Roughage, but to Lester Archabald's Degenerated Mining Company.

The environmental police had moved in on Archabald after his Hellhole No. 3 mine began discharging massive pollution into Big Puf Crick. But soon after the Orange Roughage was discovered and its major habitat ascertained he was ordered to open up his ponds and his portals, an order hardly necessary, as he was already draining by moonlight, and let the dirty water gush forth.

It looked as though mining and environment had come together in a sort of symbiosis, until that fateful day when it all hit the ventilation fan, so to speak. Archabald had opened a new drift, when fate drifted in with a terrible result. His new mine was discharging pure, clean water and the Orange Roughage immediately began choking on the residue. It could not tolerate the clean water, and Archabald was ordered to cease operations, or else dirty up his act.

Standing on the verge of economic disaster, the Degenerated Mining Company was certainly on the banks of troubled waters. As such, there was always the danger that Archabald's flunkies might, under the cover of darkness, open the floodgates and allow clean water into the stream. This was the disaster waiting to happen that the Allegheny Fronters hoped to prevent.

Saddled with this awesome responsibility, I have spent days on guard. I have been well accepted in my trusty role by everyone concerned, although Archabald seldom waves as he drives past in his Mercedes. I have been able to lead two lives in Big Puf, as it is. I speak two languages, that of the Crickers and that of the transient outsiders.

I have maintained my ties to the hills, even through my confinement of 20 years in a leading mental institution in the northern part of the state. It was here that I was exposed to an alternate lifestyle consisting of vicious intellectuals, malignant administrators and petty professors, all standing exalted over a sub-culture called "students" by some, but other various names by townspeople who thought the institution a fine place, if only the latter were excluded.

I had learned through my multi-culture to be accepted by both the Crickers and the Fronters, and, thereby, had gained a position of trust by both.

And it was there on the banks of Big Puf Crick I stood my lonely vigil, sometimes with the company of Burvil who had found a cultivated plot established by the wandering eco-doers and the remnants of a past harvest. This, however, caused me double concern over both the crick becoming high and Burvil even higher. (Yes, dear readers, I was also exposed to similar circumstances on a smaller scale without the water in that institution mentioned prior. However, the experience made both Bill Clinton and me stronger because of it.)

Although my prolonged stay in Big Puf required my absence from this hallowed spot, I am sure you will be more the wiser as I relate some of my other observations among a unique lifestyle, inclusive but not exclusive, to the Orange Roughage.

We all should stop our harried existence from time to time and smell whatever livens up our senses. For some of you, that may mean only moving your noses closer to the monitor.