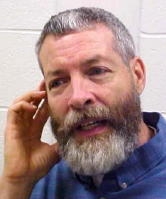 By Tony Russell

"What's going on?" I asked Chet, staring at the crowd gathered around a row of plate glass windows.

"Are you just getting here, Ace?" said Chet. "If you'd get to work when you're supposed to, you'd know that today is the finals of the competition to pick a new editor for the paper."

"Oh, that's right," I said. "I forgot today was the day. How's it going?"

"It's down to the final four contestants," said Chet. "They're taking a lap around the course right now." The crowd suddenly broke into loud, sustained cheers. "Sounds like something big!" he said.

We hurried over to the nearest window. "What happened?" asked Chet.

"Ol' Norb blew'em away," said Dale, who was standing near the front. "He jogged past the 500-pound gorilla without breaking stride, kept his eyes straight ahead as he stepped between the whales thrashing on the beach, and finished by walking right between the legs of the giant blue elephant without so much as giving it a glance! It was just like he didn't see a thing!"

"Sounds like he's got the right instincts," I admitted. "Was that the final event?"

"Nah, one more to go," said Dale, turning back around, anxious not to miss it. "In this one they have one minute to look through four stories, then pick the one they would feature on the front page of the evening edition."

"What are the stories?" asked Chet.

"Let's see. There's one on Brad and Angelina, claiming she bought him a ring. There's another about the mother in the Michael Jackson case. There's one where Paris Hilton says she's in love. And there's one about a leaked memo showing that the Bush administration had secret plans to attack Iraq, and was manipulating the intelligence to make a phony case for the war."

"Wow!" said Chet. "That's a toughie!"

"Are you serious?" asked Dale scornfully. "It's a slam-dunk."

While the other three contestants were still brooding over their choice, Norb, without hesitation, held up the story about the mother in the Michael Jackson case. The judge glanced at the story, grabbed Norb's hand, and lifted it in triumph.

"Yes! My man!" said Dale, pumping his fist in the air.

I looked at Chet. He must have seen the doubt on my face. "Now come on, Ace," said Chet defensively. "You've got to admit he has a nose for news. His decision puts him in select company. The New York Times, the L A Times, the Washington Post, all of those big papers had editors who made the same choice."

"I just don't get it," I said, shaking my head. "Michael Jackson is yesterday's news. Paris Hilton is the celebrity for today. She's what's happening."