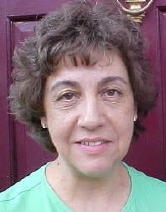 By Alice Hickman

My mother, Mae Jennings, has told me many stories about events in her life. I recall one such story about riding a bus to Parkersburg, back during World War II.

She and her mother, Delphia Weaver, had walked from their home on Trace Fork to Five Forks where they caught a bus that ran from a beginning point in Braxton County and ended in Parkersburg. On this particular trip as they were passing through Kanawha on Rt. 47, a wheel came off of the bus. Passengers got quite a jolt, with lots of dust and dirt flying everywhere. The road was not hard topped then, only dirt and gravel. The bus came to a stop and there were no injuries.

On a different trip that Mom made alone, it was dark by the time the bus returned to Five Forks. She got off the bus. A man got off the bus, also. A stranger to her. In total darkness, she began her walk home out Nobe Road. The stranger started out Nobe behind her.

She could hear his footsteps. She hurried faster and faster. When she got near Grandma Graggs' house, present location of Chink and Barbara Roberts home, and seen the light from the window, she felt more secure. Soon the stranger left, going off in some other direction.

She continued on her journey toward Trace Fork, across the county line into Gilmer County and down into Weaver holler. Home at last!

My mother has shared many stories in her life. She told me that a former teacher of hers once said, "You are the bravest person I ever knew."

I think he was right/

"And that is where the heart is"