Calhoun's own Lester McCumbers has been given Vandalia's highest folklife honor.

He is the 25th recipient of the accolade.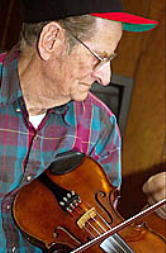 The Lifetime Achievement Award was presented to musician and singer McCumbers (left) of Nicut during the 29th annual Vandalia Gathering in Charleston this past weekend. (Photo by Michael Keller, WV Division of Culture and History)
The award was given to McCumbers during a ceremony and concert in the Norman L. Fagan West Virginia State Theater in the Cultural Center.
The West Virginia Division of Culture and History presents the Vandalia Award to a West Virginian who has made outstanding contributions to the continuation of the state's folk heritage.
McCumbers has a lifetime achievement in the performance, creation or perpetuation of West Virginia traditional arts - a true West Virginia folk musician and creator.
The Vandalia Gathering, an annual three-day festival of traditional arts and folk heritage, is celebrated Memorial Day weekend at the Cultural Center and State Capitol grounds in Charleston. More than 40,000 people attend the three-day festival.
McCumbers was born in 1921 in southern Calhoun County, known as "the West Fork." He carries on a rich tradition of fiddling, singing and guitar playing that has thrived in his family for generations.
He has performed widely for more than 60 years with old-time and bluegrass music groups, appearing at concerts, contests, festivals, square dances and on radio shows throughout West Virginia and elsewhere, including the Kennedy Center in Washington with his protégé, fiddler Jake Krack.
He has maintained his music as an important part of his life, developing a personal style of playing and singing marked by sincerity, drive and emotion.
"I just don't feel right if I don't play a tune or two every day," he is quoted as saying in an article in the spring 2004 issue of Goldenseal magazine.
"Music just gives me a lot of satisfaction in my heart. I've always tried to play the fiddle or sing a song to suit myself and the way I feel it."
McCumbers continues to pass on his musical heritage to others, including family members, apprentices and countless workshop participants.
He has been a regular performer at the Vandalia Gathering, the West Virginia State Folk Festival in Glenville and the Appalachian String Band Music Festival in Clifftop. He and his wife and performing partner Linda have known each other since childhood. They were married in 1937 and raised nine children as they performed with a variety of bands.
For four years in the mid-1960s, they hosted a weekly radio show on WSPZ in Spencer. The couple's first CD recording, "Old Timey," was released in 2002 and features 26 of their old-time fiddle tunes and songs.
MuCumbers and his family, along with dozens of other old-time Calhoun musicians, are widely recognized for their talents around the USA, but here in Calhoun County, they are known as our music playing neighbors.