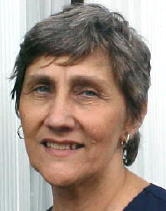 By Ann Richards

Today, someone reminded me to write for the column. I had forgotten. May has almost gone by and it seems to have only arrived.

What am I going write about? I asked myself. I asked God. I prayed. I cried. ( Just kidding ) No inspiration. Nothing.

I just can't think of one witty or happy thing to write about. I think it's all this May business and I am burnt out.

So, since everything is about May, that's what this column shall be about. May it is!

This has been birthday month for Mom and for me.

Several others have birthdays this month. Jim Welch for one. He is responsible for this column today because without his reminder, I would have nothing to say for May. He hasn't mentioned how many Mays have gone by for him, but I'm not going to ask, because then it will be necessary for me to tell.

There were more at Chapel Baptist Church who have birthdays this month, I believe. And when I went to church at Fresh Fire Ministries International in Parkersburg where I attend frequently, there were four more" May birthday people" there.

Mother's Day also came and went. Happy and blessed belated Mother's Day to all us Mom's.

As if that isn't enough, my Mom's name is Mae and I have been elected by her to escort her to her high school reunion at Glenville for Tanner High School on May 28th. which is also her birthday!

So much for the Month of May. It's all about Mom! Mother, that is. Mother's day in May. Get it?

Whew! Will I be glad when May is gone. May, that is. Not Mae. I plan on her being around for many days.

When May is finally passed, it is time for some rest and relaxation.

I'm going to need it. August is coming up and I have three children with birthdays in that month. My fourth child's birthday is in February. (Give me a break!)

They are all grown up and mature and I am sure would rather not think about birthdays. That's what I shall believe and then there will be no guilt when I forget.

I told y'all there is nothing funny or witty to write about.

No more time to write today. I have to get busy. May is not over with -Yet.