STANDING UP FOR KIDS AND RURAL COMMUNITIES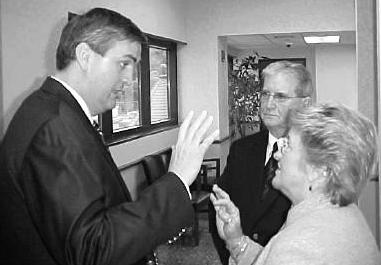 Linda Martin (right) of Challenge WV tells Mingo board member and consolidation supporter Dr. James Endicott (left) "I know you're a smart man. Why do you ignore all the research that community schools educate kids much better?" Mingo Board president Bill Duty (center) looks on
By Dianne Weaver
It has been over a year since House Education Chairman Jerry Mezzatesta became outraged with Linda Martin, coordinator of Challenge WV, while she was testifying before his committee.
Mezzatesta, often described as "brash, ego-driven and arrogant," called the Challenge's busing bill "bogus." The no cost busing bill would have slowed wholesale consolidation of West Virginia schools and eliminated future long bus rides.
When Mezzatesta refused to allow the committee to vote on the busing bill, the diminutive Martin said, "Voters will remember you on election day."
Further angered, he told Martin it wouldn't be her vote that would put him out of office. He then called capitol security, saying that Martin had threatened him.
Twenty-one Challenge WV fellows continued to give testimony about children who have long bus rides and the dozens of studies that say children perform better in small community schools.
Martin was not arrested.
Since then, Mezzatesta has been charged with numerous offenses, was removed as chairman of the powerful education committee, and has been voted out of the legislature.
Now, Mezzatesta has been indicted by a grand jury in Hampshire County on a charge of false swearing under oath. He has also been fired from his school board job.
After the State Ethics Commission found no wrongdoing regarding his double-dipping, the commission changed its mind, and the legislature has even revamped the agency.
Martin has continued to challenge bogus statistics provided by state education officials regarding long busing rides, and questioning the unfairness of House Finance Chairman Harold Michael, who killed the busing bill during the last legislative session.
The busing bill, introduced by Gov. Joe Manchin and widely-supported by legislators, would have effectively put an end to wholesale consolidation of WV schools.
"West Virginian's have been getting madder and madder over rough-shod decisions of state education officials," said Martin, and even more outraged by legislators who sack public funds."
Martin said Chairman Michael has been funneling millions of dollars to his home county like a "drunken sailor." The house leadership has been giving him personal discretion on millions of dollars of education dollars. Even State Superintendent David Stewart went on record, saying he had no idea how Michael's education money was to be used.
Michael said he makes no apology for "bringing home the bacon." Challenge WV fellow Thomas Ramey asked "Whatever happened to fairness in spending taxpayer money? He is the entire state's finance chairman, not just Hardy County."
Michael is being supported by Speaker Bob Kiss, who told the media that good politicians help their constituents.
Kiss said Michael has done nothing unethical or illegal.
Kiss made the same defense for Jerry Mezzatesta.