Calhoun Middle School recognized their players last night at the All-Sports Banquet held in the Commons and the school auditorium. Roger Propst served as master of ceremonies for the event, sponsored by the Calhoun Middle School Student Boosters group.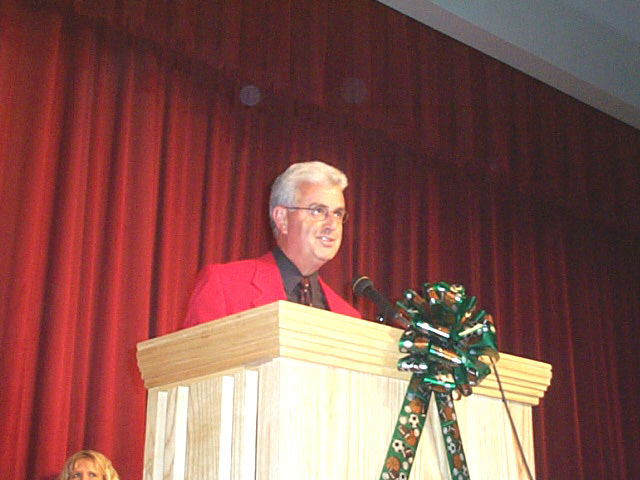 Roger Propst, master of ceremonies
Coaches Welch, Wayne, Jones, Bunch and Goodrich called their athletes forward, including football, cheer leading, girl's basketball, boy's basketball and wrestling.
Student Zac Bailey received special recognition twice during the ceremony for his voluntary work with the sports program and other school activities, once to a standing ovation. "This young man is always here helping out, with a wonderful smile and attitude," said Principal Jane Lynch. "He's a jewel."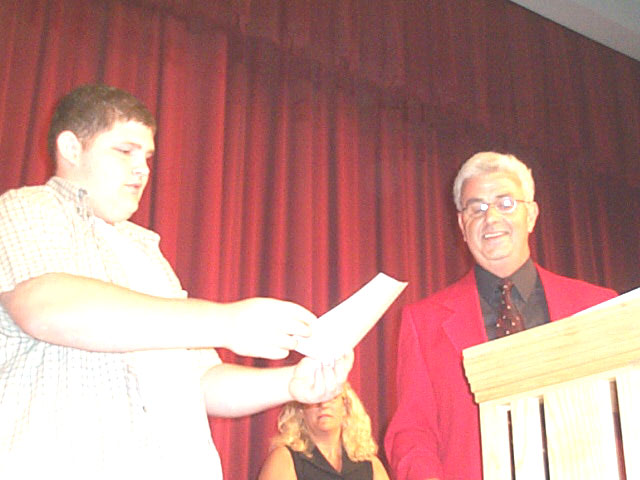 Zac Bailey receives special recognition
The players, their families and coaches enjoyed a desert banquet before the recognition ceremony. Principal Jane Lynch expressed appreciation to the coaches, parents, players and supporters of Middle School sports.
MIDDLE SCHOOL FOOTBALL Coach Rich Welch, Michael Batten, Justin Price, Steven Cunningham, Chad Conley, Tim Butler, Andrew Cummings, Clyde Capps, Justin Whipkey, Dustin Carpenter, Lee Summers, John Villines, Bobby Toppings, Levi Siers, Zack Ferrell, Paul Goodrich, Brandon Bunner, Pat Keaffaber, Michael Sullivan, Jason Cunningham
MIDDLE SCHOOL CHEERLEADERS Coach Robin Wayne, Jessica Heiney, Whitney Johnson, Mallory Hopkins, Jessica Moles, Trish Siers, Britni Whited, Jeanette Starcher, Andrea Hardway, Kyerstan Garrett, Shayna Hartshorn, Amanda McCartney
MIDDLE SCHOOL WRESTLING Coach Paul Goodrich, Dustyn Nichols, Eddie Burrows, Paul Goodrich, Andrew Cummings, Randy Brannon, Seth Jarvis,
MIDDLE SCHOOL BASKETBALL GIRLS Coach Kristin Jones, Casey Westfall, Courtney McKown, Natasha Shock, Dani Church, Holly Harris, Whitney Sampson, Amanda Richards, Alicia Greathouse, Katie Walker, Andrea Hardway, Kara Sears, Jade Nichols
MIDDLE SCHOOL BASKETBALL BOYS Coach Scott Bunch, Benny Miller, Justin Price, Jake Perkins, Michael Batten, Tristan Harris, Tim Butler, Andrew Prusack, Matt Cummings, Brandon Bunner, Tommy Gerwig, Jason Poling, John Bigger, Peter Bocchini, Tyler Schartiger, Lucas Morford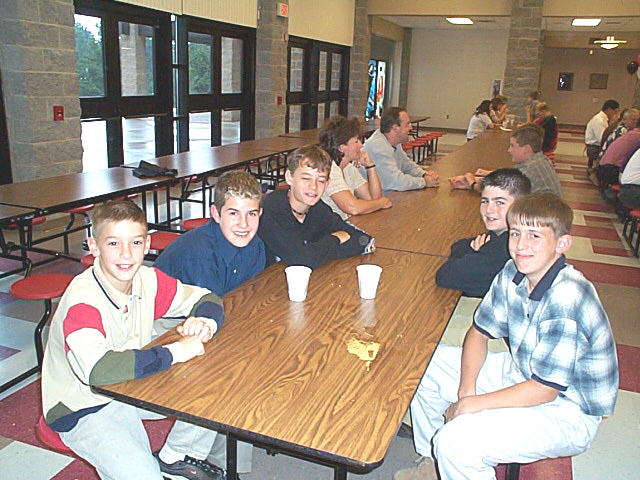 Athletes waiting for ceremony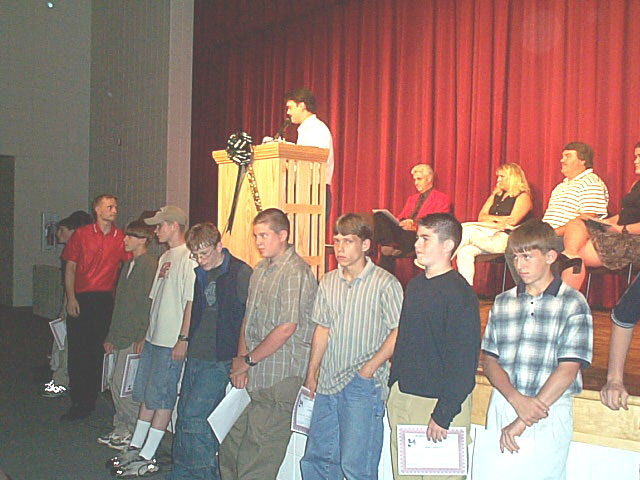 Football players recognized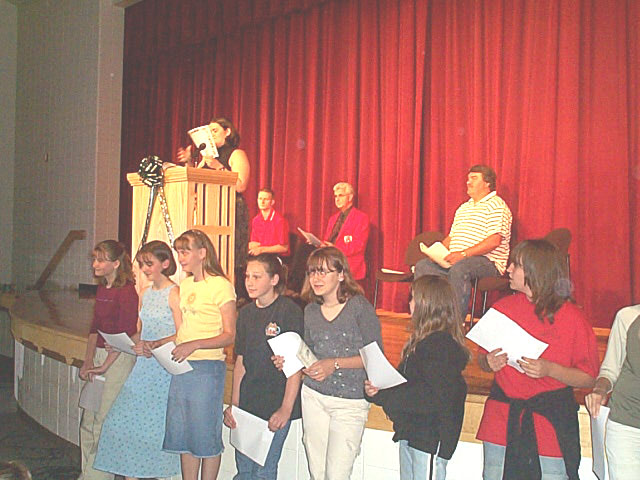 Girls basketball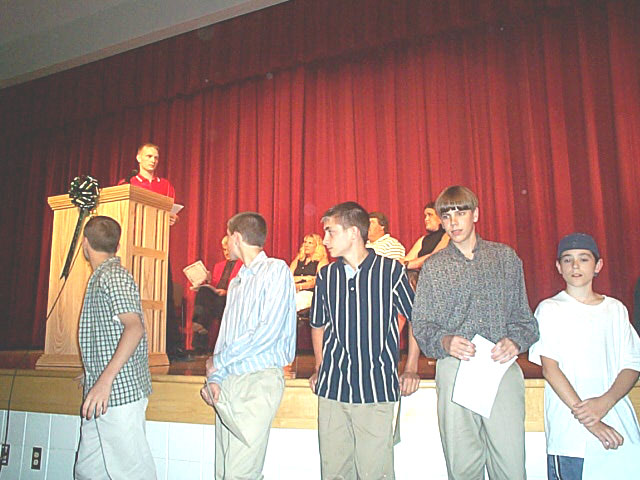 Boys basketball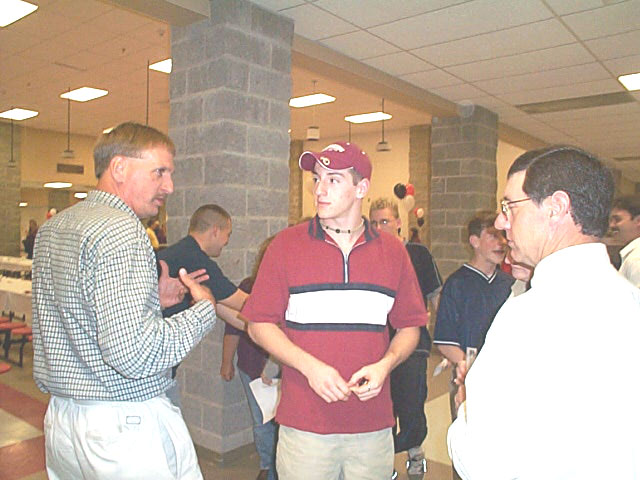 Talking sports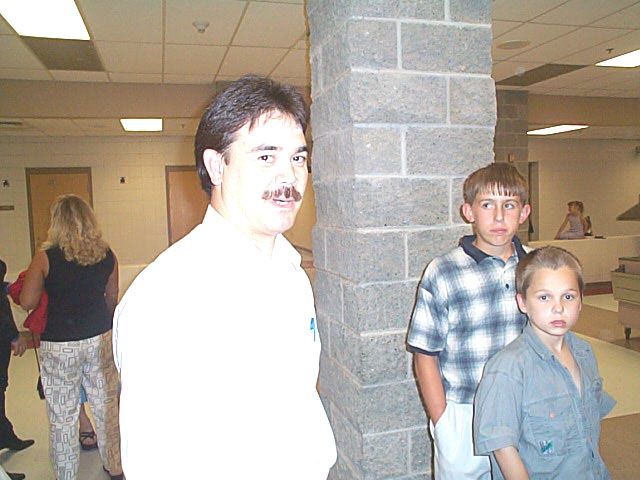 Coach Rich Welch