By Jack Cawthon
Barbecuerun@aol.com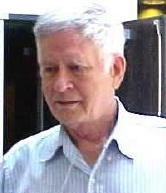 When I walked through the doorway of Arley Cleeter's cabin, I knew there was something wrong. He was ashen, the color of burned-out writers who had spent their fifteen minutes of flame in the belly of his heating stove, and then had fallen through to the ash bin below, the final resting place of both the published and unpublished, "ashes to ashes…"
From the psychology courses I had attended in college, and I had good attendance, which may be three-fourths of the requirement to achieve any purpose in life, I knew that someone in a highly charged emotional state must be treated with sensitivity. So, I said, "Good Lord, Arley, you look terrible! Maybe I can help you make it through whatever calamity has befallen you, but I doubt it from your looks. I figure you are doomed, but tell me about it anyway." My gentle approach didn't seem to help. He began to sob.
Between the spasms, I could make out something about George Bush. I tried to console him, telling him we all had reasons to cry at the President's will and pleasure, especially about the terrible losses of American lives in a futile battle across the waters. But it might have been worse: Howard Dean might be leading the troops with a war whoop.
I finally understood that it wasn't George Bush, the commander-in-chief, but George Bush the young and restless youth who was caught recently on tape admitting to marijuana use during his earlier days. I reminded Arley that Bill Clinton, although not inhaling, had done likewise, and that no harm had resulted other than that sexual experimentation had replaced drugs.
Arley had gained his composure somewhat and tried to explain. He screamed: "George Bush is going to give pot smoking a bad reputation!" I was slowly beginning to understand that Arley wasn't worried about presidential matters, but about free market sentiment.
I had heard rumors around Big Puf about Arley's foray into intensive agriculture. There was talk of giant vegetation harvested with chain saws and people had seen Ab Hanshaw's logging truck loaded with strange appearing timber joints which he had claimed were poplar saw logs.
Some people claimed that the "poplar" sold for outrageous prices and that, actually, it wasn't poplar, but popular nonetheless, but instead some sort of marijuana plant that Arley had mutated. If this was the case, then the crop would be worth a fortune according to "street" prices quoted by cops when raiding home plantings and estimating prices as high as $100,000 for ten or twelve puny plants. Arley might be producing half the national gross product, if, of course, it could be legally entered.
I warned him that I had read about two geographers at a leading university in the northern part of the state who were using the latest map technology to help police determine where marijuana is being grown. I figured Big Puf would light up like a Christmas tree.
Arley smiled at that. It was certainly good to see him look happy again. "They might be good at locating crops, but so far no one has been able to find Big Puf!" I had to agree, although I certainly have given enough explicit directions in these writings.
I asked Arley what had enticed him into activities that are frowned upon by some law-abiding folks. He explained that it was the agricultural bulletins I had edited during my long years on The Payroll. That, he said, in addition to a little technical help from some South American country, Columbia, I believe he mentioned.
At last, someone had made good use of the information I had helped provide. My life hadn't been a waste after all! Maybe I would even be installed in the Agricultural Hall of Fame. Let my critics put that in their pipes and smoke it!
After assuring Arley that his secret was safe with me and that journalism ethics would never permit me to divulge my sources, he seemed relieved as he knew that no one reads the stuff I write anyway.
As I walked out the door to leave, I heard the roar of chainsaws, then the yell "timber", and a resounding crash that shook the earth. Ab Hanshaw's logging truck was just pulling into the driveway. I noticed on the door of the truck: "Ab Hanshaw Trucking, Poplar Log Joints for all Occasions."